The charming city of Bergamo is nestled in the Lombardy region of northern Italy. Bergamo's famous Stadio Atleti Azzurri d'Italia, home to the Atalanta football club, is situated within a stone's throw of the beautiful, historic city, so you'll find plenty of opportunities for fun and excitement long after the match is over.
Whether you want to visit its world-class stadium, tour the city or just enjoy some sightseeing and relaxation in the tranquil Italian countryside, you'll discover plenty of things to see and do during a football break in Bergamo.
Meet the team: Atalanta B.C.
Atalanta Bergamasca Calcio, or Atalanta B.C., is the Italian football club in Bergamo that plays in Serie A. The team has the nicknames of 'Nerazzurri' and 'Orobici', and they play in jerseys with blue and black stripes, black shorts and black socks.
Founded in 1907 by a group of Swiss students in the liceo classico gym, the club was named for a female athlete in Greek mythology. The club wasn't officially recognized until 1914, and the current club is the result of a merger between Atalanta and Bergamasca. Atalanta officially joined the Italian league in 1929.
Atalanta is occasionally referred to as 'Regina delle provinciali', or the queen of the provincial clubs. This is due to its being one of the most consistent Italian clubs not based in a regional capital. The club has played 58 times in Serie A, 28 times in Serie B and once in Serie C.
The club has a favourable history, winning the Coppa Italia in 1963 and reaching the UEFA Cup Winners' Cup semifinal in 1988 as a Serie B club. This is the best-ever performance by a non-first-division club. Atalanta also played 4 seasons in the UEFA Europa League and reached the quarterfinals in the 1990-1991 season.
In 2019, the club qualified for the 2019-2020 UEFA Champions League, marking the first time in their history.
FUN FACT Atalanta B.C.'s biggest rivalry is with the neighbouring Brescia Calcio, a Serie A Italian football club in Brescia, Lombardy.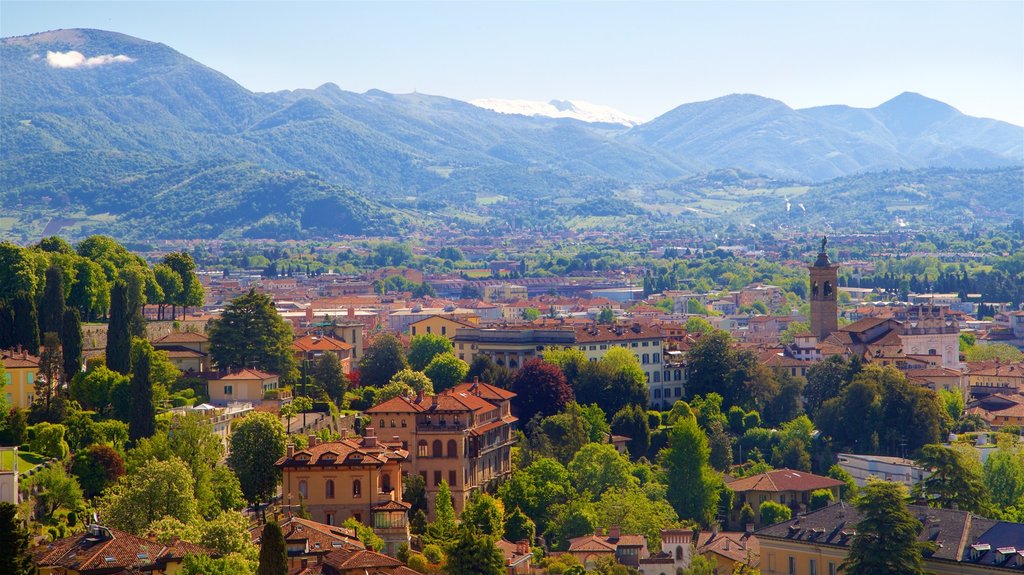 Cinta Muraria di Bergamo - Credit: Imagebox/TM
Visiting Bergamo's football stadium: Stadio Atleti Azzurri d'Italia
Stadio Atleti Azzurri d'Italia is home to the Serie A side Atalanta. The stadium seats 21,300 people and has an old-world, rustic appeal. Most of the stands are uncovered, so you can enjoy the sunshine while you watch the match.
Getting there
By train, you can reach the area around Stadio Atleti Azzurri d'Italia from the Bergamo train station. Once you arrive, you can get on a bus to get to the stadium. It's on a number of bus routes, but the primary option is bus line 6, which departs from Via Paglia 34c near Bergamo Station. The ride takes about 14 minutes and puts you within a minute's walk of the stadium.
Bergamo also has a tram that leaves from east of Bergamo Station. This transport option requires about 15 minutes of walking. To take the tram, you'll need to go to the tram stop near the station and take the T1, then ride 3 stops to BG Albino. The ride takes about 4 minutes. Once you arrive at the tram stop, there's about a three-quarter-mile walk to the stadium that takes about 15 minutes.
If you prefer more flexible transport, you can take a taxi or rideshare from the train station. Pricing changes throughout the day according to demand and traffic conditions, but it's a faster and more flexible mode of transport to get from the station to the stadium.
Hiring a car and driving yourself is an option as well, but it can be difficult to find parking on a match day. There's likely to be a lot of traffic, which can be challenging if it's your first time driving in the city.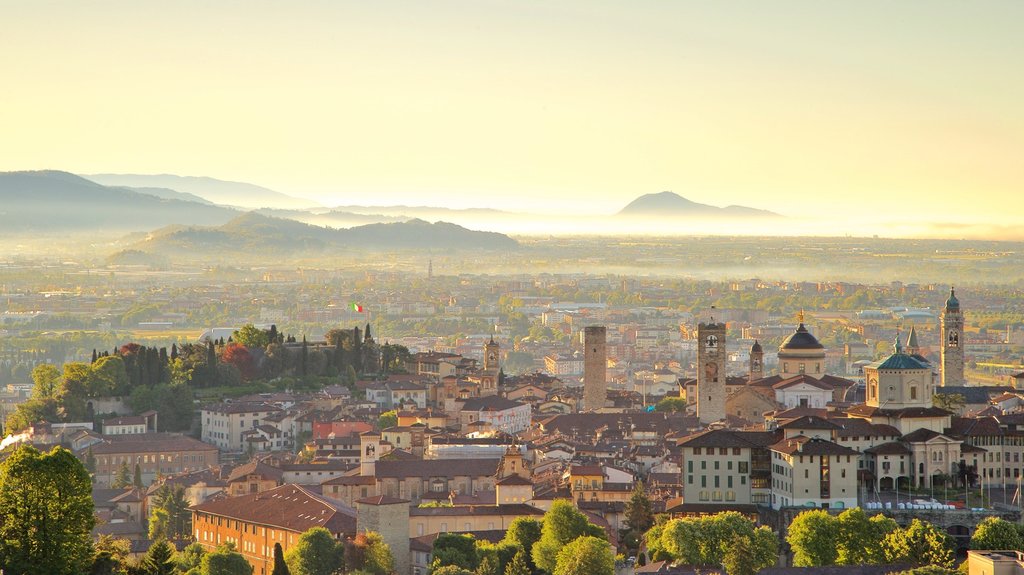 Credit: Imagebox - TM#### Where to eat and what to do around Bergamo
Bergamo is split into two sections: Citta Alta and Citta Bassa, which are connected by roads, pathways and a cable-car line.
Citta Alta is the upper part of the city and its historic centre, dating back to the 16th century. Located just inside the Venetian walls, this part of the city is traditional and charming, filled with cobbled streets, historic architecture and gorgeous views of the modern cityscape, such as Torre Civica.
Citta Alta is a great place to see some of the city's oldest landmarks, such as the Bergamo Cathedral, and enjoy pastries or gelato in the Piazza Vecchia. If you're looking to purchase some Atalanta merchandise, you can find the official Atalanta B.C. shop in Orio Centre near the airport.
There are plenty of excellent dining options in Citta Alta as well, such as La Tana on Via San Lorenzo, a fine restaurant with delicious steak and wine. If you prefer a quick bite, you can stop in Colleoni dell'Angelo Restaurant in Piazza Vecchio or Pizza Alta near Piazza Giacomo Carrara.
For something traditional and local, visit Mimì La Casa dei Sapori for lunch or dinner. The historic restaurant serves classic Italian fare and traditional Bergamo dishes, so you can get a taste for the local culinary culture.
If you're staying in the modern Citta Bassa, you'll have plenty of sights and dining options to choose from. One of the top spots is Taverna Valtellinese, a rustic lodge restaurant modelled after an alpine ski village. The menu has rotating specials and classic fare, including a unique beef dish that is a must-try on your trip, and casoncelli, a local pasta variation.
Citta Bassa also has some sightseeing gems of its own. This lovely part of the city is perfect for wandering the streets and discovering historic churches and lush, green parks. It has some of the best shopping as well, so you can stop in local shops that catch your eye to bring home some unique souvenirs.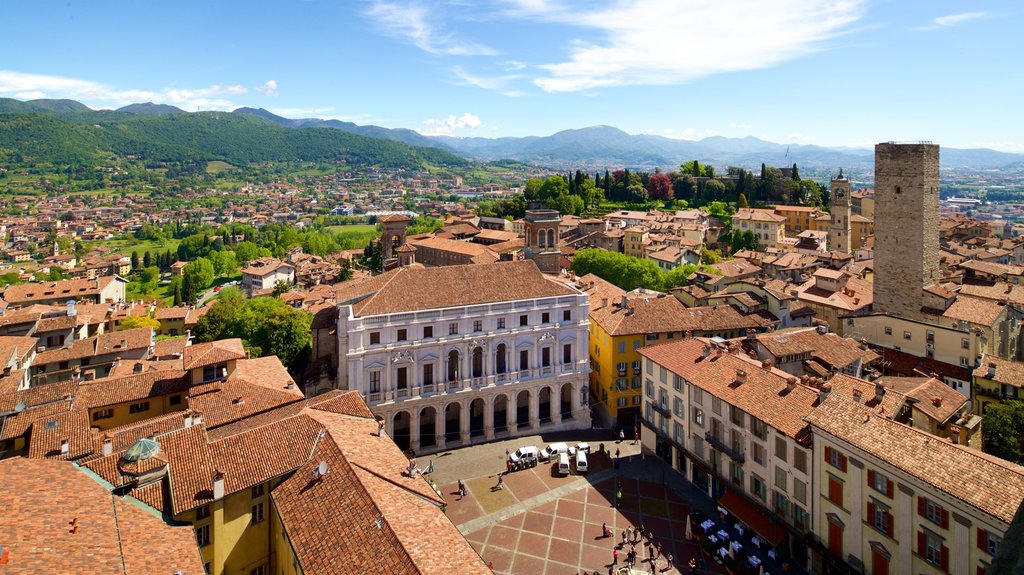 _Credit: Imagebox - TM_Partying in Bergamo after the match
Celebrating after the match
Bergamo is far less crowded than other nearby cities, but it has a lively bar scene that truly comes alive after an Atalanta match. Most bars and nightspots are avid supporters of the home team as well, so you're sure to find lots of fans at any venue.
Shake, located near the stadium, is a neighbourhood cocktail bar that's a good place to start your night of celebrating. The bar has a cosy atmosphere and a young, hip crowd. Another local hot spot is the Ritual Pub, an Irish pub near the main station with classic beers and a range of televisions to watch football matches and recaps.
Going out in Bergamo
If you're looking for traditional bar food after the game, BEFeD Brew Pub is the best place. The pub specializes in unique chicken dishes and craft beers, especially bock beers, which pair perfectly. The bar is close to the main station near Porta Nouva as well.
If wine and cheese is more your taste, you can visit the Bu Cheese Bar to sample delicious wines and artisan cheeses with ingredients sourced from the surrounding regions. For an energetic nightlife experience, your best bet is Bar Blitz Di Alex Pintus, a famous cocktail bar with an underground atmosphere, speciality cocktails and cheeses.
In addition to its reputation for wine, Italy has an emerging beer scene with just as much innovation and flavour. If you want to try the beers in Bergamo, you can visit the Elav Kitchen & Beer brewpub in Citta Alta and dine on traditional Italian food while sampling from their huge beer list.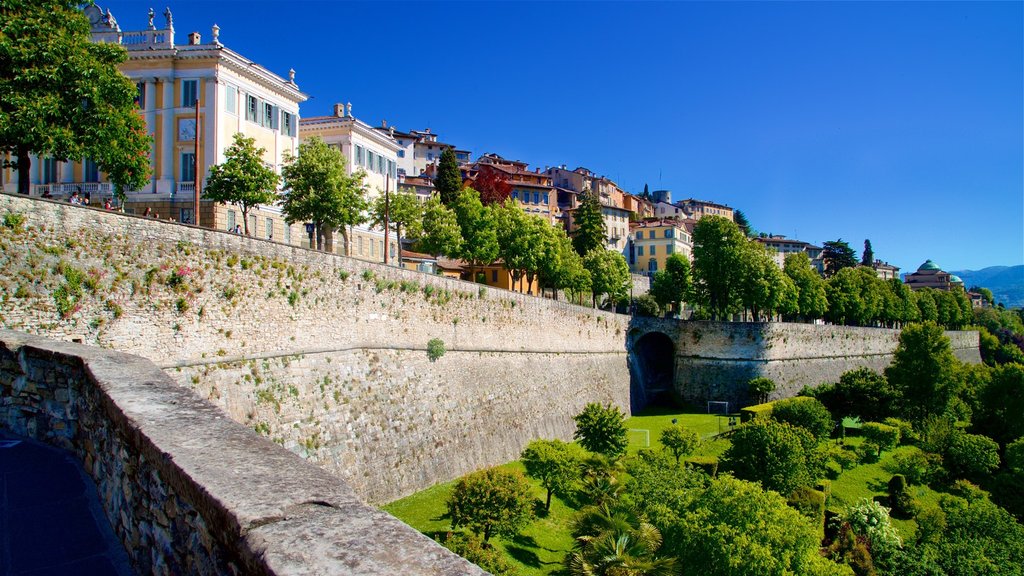 _Credit: Imagebox - TM_Getting to Bergamo
Bergamo is in the centre of Lombardy, roughly 34 miles from Milan. Orio al Serio, the Bergamo airport, is a few miles from the centre of Bergamo and 37 miles from Milan. It's well-connected to many Italian and European cities, and you'll find a good selection of flights, including flights from London to Bergamo. There's an airport bus service that travels from the airport every 30 minutes.
You can find many historic and modern hotels in Bergamo, in both parts of the city, so you can plan your trip around the best attractions and dining.
Are you ready to cheer with some of the most passionate football fans around? The historic charm, diverse attractions and lively nightlife make for a fantastic football weekend in Bergamo.
If you want to discover more of Bergamo, take a look at the best things to do in Bergamo to plan your trip.
Photo Credits
Cover pic: Bergamo Alta - Imagebox/TM