From vintage clothes to quirky souvenirs, Blackpool has an array of shopping options. For a new wardrobe, hit the pedestrianised city centre and the indoor Houndshill Shopping Centre. For high-street fashion catch the historic tram to Affinity Lancashire for discounted brands. For souvenirs, browse the gift shops along the promenade or head to one of the city's independent boutiques. Find out more with our ultimate guide to shopping in Blackpool.
Fashion: High-Street to Vintage
The town centre, where most of the high street stores are found, is tucked between the North Pier and Coral Island. Shopping in Blackpool is an enjoyable experience: many of the city centre streets are pedestrianised and the major shops are within a short distance of each other.
Just behind the promenade, you'll find Houndshill Shopping Centre, which originally opened in 1980 and was refurbished in 2008. The indoor centre is a great place to shop if it's raining or cold outside and has over 60 stores, including H&M, New Look, Peacocks, River Island, Primark and Debenhams. You'll also find lots of restaurants for a lunch stop, such as El Taco Loco and Roosters.
On the streets around Houndshill, there are more major stores, such as Marks & Spencer on Church Street. There are plenty of independent stores too. Try Blueberries for brands such as Ralph Lauren and Barbour or Hermosa Boutique where almost all the women's clothing and shoes are under £20.
The Regent is a 1920s cinema in a Grade II listed building with three floors of over 50 stalls selling vintage clothing, as well as antiques and crafts. It's open all week. The cinema shows films on Friday evenings and there's also a cute retro-style tearoom on the first floor (open from 10am until 3pm every day).
Overlooking Morecambe Bay, Affinity Lancashire (formerly Freeport Fleetwood) has over 45 outlets all offering discounts on major brands, from back-to-school deals on Clarks shoes to 50% off Jaeger items. There is an indoor soft play area for kids, too. It's a 20-minute drive north of Blackpool's city centre or you can catch the tram - one of the UK's oldest.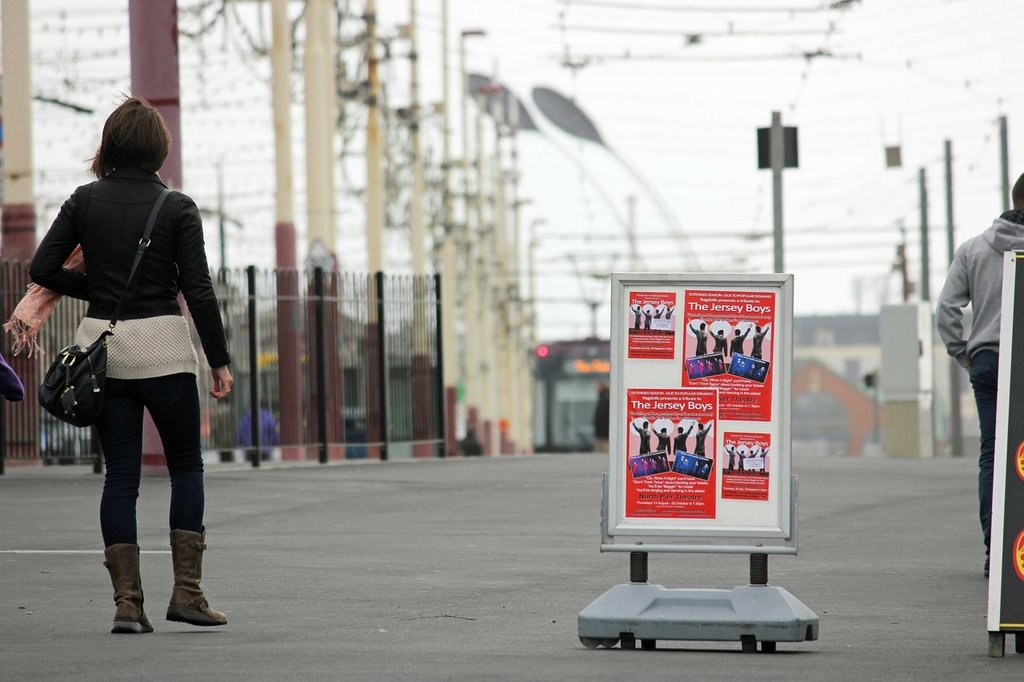 Explore Blackpool's Seaside Markets
Abingdon Street Market is a great place to find fresh food, including fruit and veg, fish and seafood, cheese, pies and meat. There are also stalls selling jewellery, leather goods, books and beauty products, as well as a hairdresser's, barber's and even a tattooist. You'll also find plenty of cafés in which to take a break, as well as free WiFi. Over Christmas, there's a continental market, too.
Bonny Street Market is the largest open-air market in Blackpool, just off the promenade. There are around 75 stalls with a range of goods, such as party clothing and novelty hats (think fun rather than high quality!). You'll find several services offered, including key cutting and engravings, plus some more quirky stalls such as a clairvoyant. The market is open seasonally, from May to November, plus some bank holiday dates.
If you've travelled up to Affinity Lancashire, you can visit the nearby Fleetwood Market with its 200 stalls of food, clothes and homeware. It's partially inside a Victorian market building dating back to 1840, though the market has been trading since 1725.

Best of the Rest
Head to Blott Studio to browse artworks from local and regional artists. The Grundy Art Gallery was founded in 1911 and showcases contemporary art from the likes of David Hockney and Susan Philipsz. Its shop sells jewellery, art journals and cards.
On Bond Street, Mrs Johnson's Emporium is a family-run business established in 1974, selling a huge range of pure wool, over 8,000 types of buttons, yarn, patterns and much more.
The Magic Wand Factory sells ceramics made by Carol Grey, such as the ornamental wands after which the store is named, plus wind chimes, dream catchers, jewellery and crystals.
Attached to the Winter Gardens, Charabanc is a boutique run by Aunty Social, whose mission is to build a Fylde Coast community through the creative arts. The store sells vintage goods, from homeware to fashion, and locally-made crafts. It's a great place to pick up a unique gift.
For a more 'typically' Blackpool souvenir, visit any one of the gift shops that line the South Promenade around Pleasure Beach. Brooks Collectables and Museum was opened in 1949 and stocks all kinds of memorabilia and knick-knacks, from Marvel comics to Betty Boop figurines. Along the Victorian-era North Pier you'll find kiosks selling gifts, sweets and clothes.