Turin is an unforgettable holiday destination. It's a city filled with historical treasures, culinary delights and world-class museums - all set within view of the mountain peaks of the nearby Alps. Get ready to feel inspired by our list of the best things to do in Turin.
Mole Antonelliana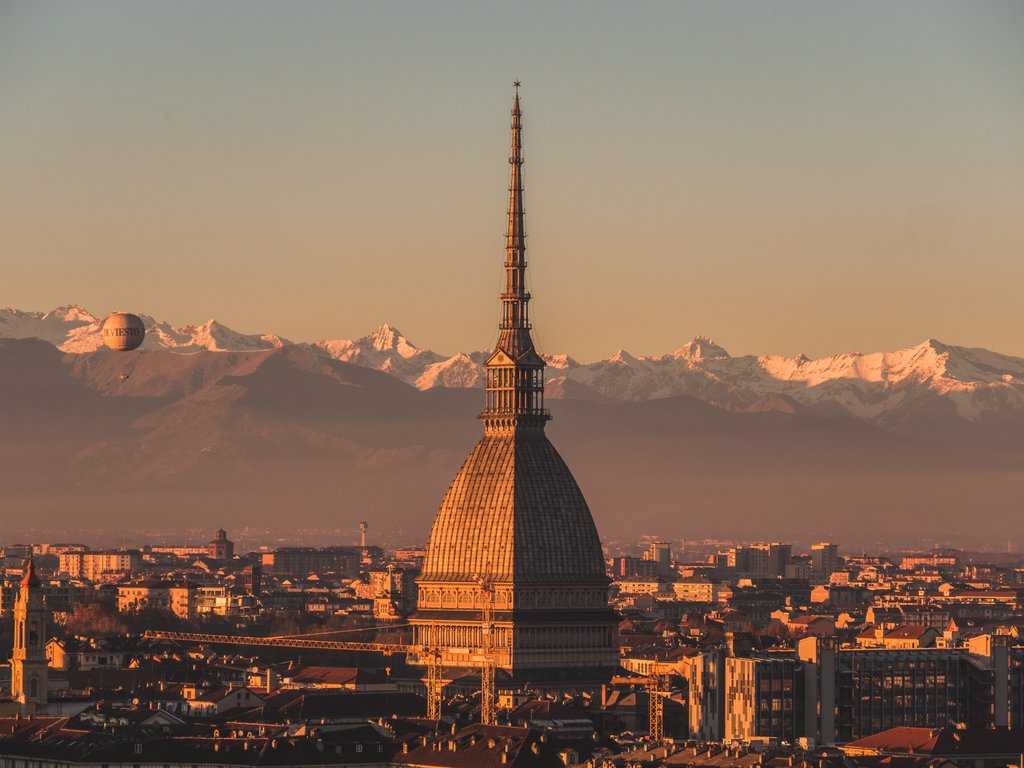 The needle-like spire of Mole Antonelliana makes it the most iconic building in Turin. Standing at a height of 167.5 metres, it was originally conceived as a synagogue, but plans for Mole Antonelliana changed mid-construction and it was turned into a monument of national unity instead. It contains the Museo Nazionale del Cinema, which has a fascinating collection of historical film equipment and movie paraphernalia. But the biggest highlight is the chance to visit the 85-metre-high observation platform, where you'll see incredible views over Turin and the surrounding landscape.
Museo Egizio
With over 26,000 artefacts, the Museo Egizio is the largest museum dedicated to Egyptian history that you can find outside of Cairo. The collection includes some of the most important Egyptian finds in history, such as statues of Ramses II and Isis, mummies, a large papyrus collection and three versions of the Book of the Dead. However, the discovery of the tomb of Kha and Merit is rightfully given the biggest spotlight; this was the final resting place for a tomb builder and his wife and still includes all their luxurious grave goods.
Piazza Castello
For those staying at a Turin city centre hotel, Piazza Castello will be within easy walking distance. Two of Turin's most important buildings are located in this large central square. The Palazzo Reale was built in the 1600s and you can go inside to see its lavish rooms and the Chapel of the Holy Shroud. Palazzo Madama is another architectural masterpiece and houses the Museo Civico d'Arte Antica, a museum dedicated to decorative arts. When you need a sightseeing break, Piazza Castello is lined with cafes and restaurants; it also happens to be the perfect spot to enjoy a gelato.
Galleria Civica d'Arte Moderna e Contemporanea
Art fans should make their way to the Galleria Civica d'Arte Moderna e Contemporanea (GAM). Founded in 1891, this is the oldest permanent collection of contemporary art in Italy. There are over 45,000 artworks in the museum, including paintings, sculptures, installations, photographs and videos. Most of the pieces date to the 19th and 20th centuries and you'll be delighted to spot names like Andy Warhol, Eduardo Chillida and Paul Klee as you wander through the galleries. As if the vast permanent display isn't enough, GAM also hosts compelling temporary exhibitions.
Parco del Valentino
Nothing could beat a sunny day in Parco del Valentino. While you could easily spend hours strolling along the lovely pathways, Parco del Valentino also features a multitude of exciting attractions. Step inside the 17th-Century Castello del Valentino to see its opulent rooms and colourful frescoes. Or step back in time by visiting Borgo Medievale, a recreation of a medieval village that was built in 1884 as part of an international exhibition. The latter includes a castle, drawbridge and artisan workshops. There's a botanical garden in the park too, complete with balmy greenhouses.
Porta Palatina
A holiday in Turin allows visitors to see the best-preserved 1st Century BC Roman gateway in the world. The Porta Palatina used to be the northern gateway into the Roman settlement of Julia Augusta Taurinorum. The gateway has four entrances: two for horse-drawn vehicles and two smaller entrances for pedestrians. Porta Palatina also has two 30-metre-tall defensive towers, making the structure look every bit as formidable as it must have appeared during the height of the Roman empire. It now forms part of an archaeological park that includes the remains of a Roman theatre.
Museo Nazionale dell'Automobile
Turin has long been associated with vehicle manufacturing, so it's only natural that you can find a museum solely dedicated to cars in this city. The Museo Nazionale dell'Automobile is a state-of-the-art venue that showcases 200 cars from 80 different manufacturing brands. Inside, you can find everything from vintage steam-powered vehicles to the flashiest of sports cars. The cars are undoubtedly the stars of the collection but the museum also delves into the history of car manufacturing and has a thought-provoking section on how climate change has had an effect on car design.
Mercato di Porta Palazzo
Mercato di Porta Palazzo is the largest open-air market in Europe, covering a total of 50,000 square metres. There are about 1,000 stalls selling their wares here at any given time, making it a magnet for locals doing their grocery shopping and for tourists who want to experience a sensory overload. You can find stalls selling vegetables, fish, dairy, household items and even clothing. For those who want to grab a meal on the go, there are stalls specialising in hot food, including delicacies from Turin and beyond.
Have we convinced you to choose magical Turin for your next city break? Go ahead and book your flights to Turin today!