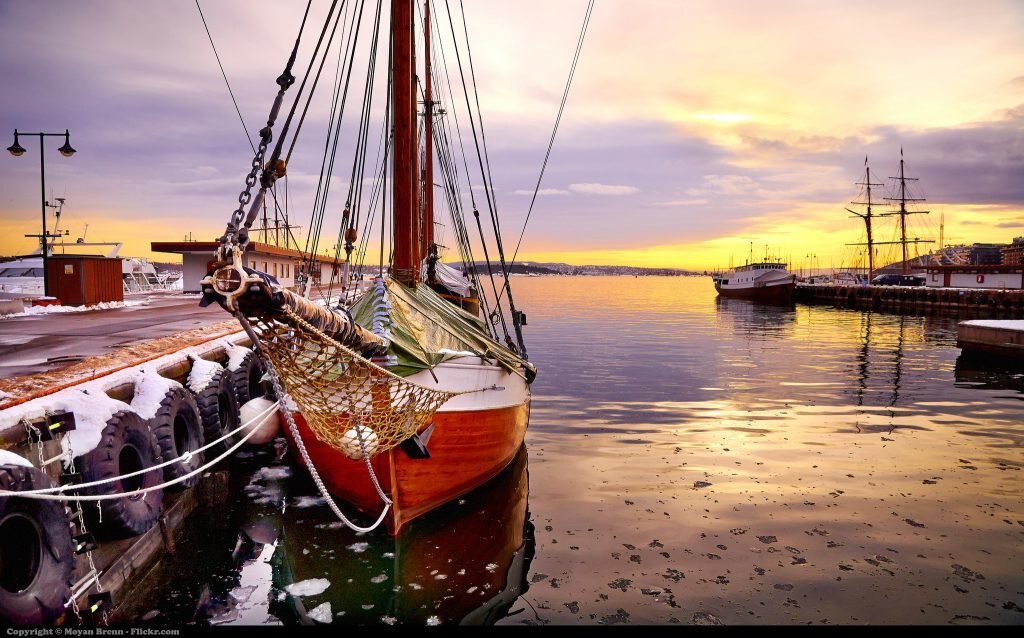 Perched on the edge of a fjord, Norway's charming capital city has no shortage of natural wonders at its doorstep. But with a booming design scene, innovative Scandinavian restaurants and a chic take on fashion, Oslo has plenty of man-made marvels for those with a creative streak.
Artistic expression has long been part of what makes Oslo a fantastic city to explore, and the ever-growing art scene offers everything from urban murals to expressionists masterpieces.
Whether you are a critic, a connoisseur or an artist yourself, here are five unmissable destinations for art in Oslo:
National Gallery (Nasjonalmuseet)
No creative pilgrimage to Oslo is complete without a trip to Norway's National Gallery. The museum houses the largest public collection of art in the country, spanning the spectrum from drawings to paintings to sculptures. The most famous piece in the gallery is Edvard Munch's iconic "The Scream." The gallery, which was established in 1837, also has works by French Impressionists including paintings by Cézanne and Manet. Stop by Thursday for free entrance to this classic collection.
Munch Museum
Why stop at a single Scream? Norwegian painter Edvard Munch created at least four copies of his famous shrieking figure standing against a colorful Oslo background. The museum named in his honour has two more versions of the painting, as well as more than 1,200 other paintings, and nearly 20,000 prints created by the artist. The Munch Museum was also the location of one of the most notorious art heists in recent memory, adding to the artistic allure of the already noteworthy gallery.
Vigeland Sculpture Park
Oslo has a long history of supporting artists. One of the most interesting partnerships began in 1921 when the city agreed to build a studio and museum for sculptor Gustav Vigeland. In return, the artist donated almost all of his work back to the city of Oslo. The resulting museum that opened in 1947 represents Vigeland's life work - an array of sculptures in plaster, granite, bronze, marble and wrought iron. Outside, the Vigeland Sculpture Park is the world's largest outdoor sculpture collection by a single artist.
Street art at Ingens Gate
Pristine cobblestoned streets and sweet storefronts are just one side of Oslo's metropolitan architecture. An emerging street art scene has sprung up in one of the capital's more bohemian corners. Ingens Gate, which translates to "Nobody's street," has become the epicentre of Oslo's colourful urban art scene. Brick walls are covered with murals and installation art (including outdoor chandeliers) regularly appear. On Sundays, a flea market selling wares from local artists adds to the area's creative flair.
Modern Art in Tjuvholmen
The dynamic neighbourhood of Tjuvholmen began as a dockyard but has been transformed by urban renewal into one of Oslo's best creative neighbourhoods. The modern day artist's retreat is best known for the Astrup Fearnley Museum of Modern Art - a private collection that is housed in a striking modernist building on the water. In addition to revolving shows by contemporary artists, the museum's permanent collection includes works by Francis Bacon, Jeff Koons and Cindy Sherman. While the Astrup Fearnley Museum is best known stop on the block, Tjuvholmen is also home to numerous galleries and outdoor installations that will keep any art lover busy between snack breaks for knekkebrød (Norwegian flatbread sandwiches).
Oslo makes a perfect city break for any art lover!