With cobbled alleyways, pastel-coloured buildings and a castle tower high on a hill, there's a certain fairytale quality to Vilnius. That said, this city is far from ancient in attitude, with its thriving arts scene, trendy café culture and energetic student population keeping the bars open until late. Discover both sides to Lithuania's cosmopolitan capital with our pick of things to do in Vilnius.
Climb Up to Gediminas Castle
The best way to get your bearings in Vilnius is by viewing the entire city from above at Gediminas Castle. The red-brick tower that remains is found at the end of a cobblestone pathway that leads up the southern side of the hill from the Old Town.
Once there, you can visit the museum to see a collection of medieval armour and weaponry, but the real highlight is the panoramic city views from the roof of the tower. If you don't fancy walking, there's a funicular on the hill's northern side to take you up and down.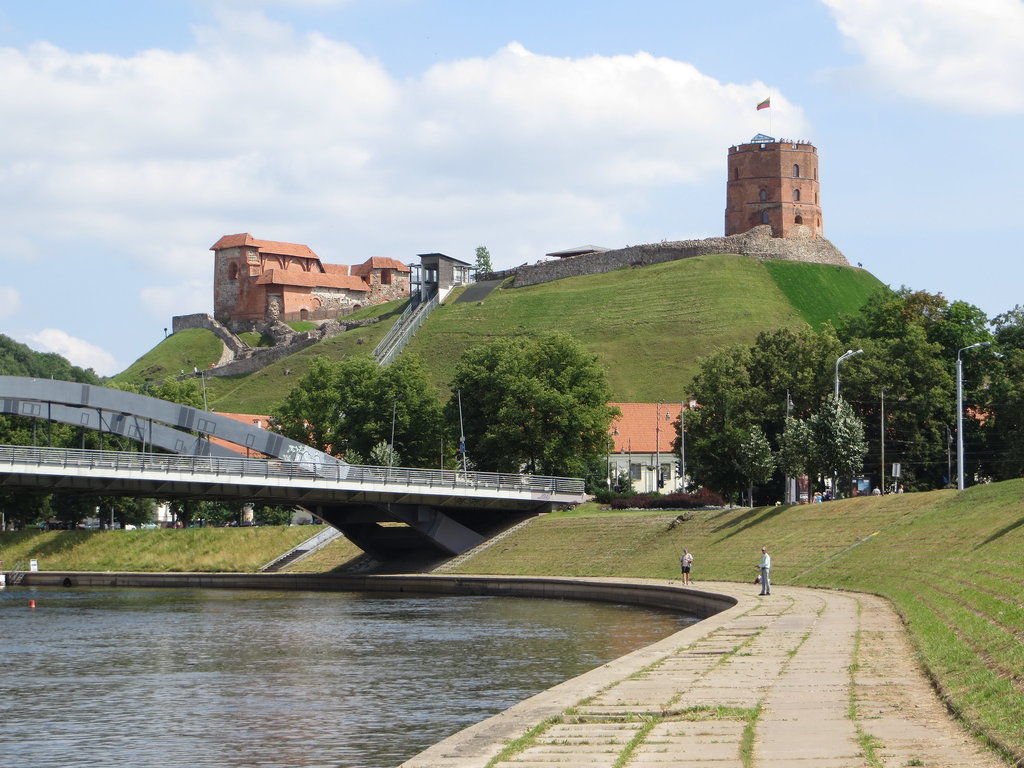 Upper Castle in Vilnius by Bernt Rostad - CC BY 2.0 (https://creativecommons.org/licenses/by/2.0/) - https://www.flickr.com/photos/brostad/9651317009
Explore Cathedral Square and the Old Town
Vilnius is a compact city, so you can easily navigate around on foot. Start with the signature attraction - Vilnius Cathedral. This neoclassical architectural highlight has a grand columned entrance, a separate bell tower and, at the back, St Casimir's Chapel to explore.
From here, you can wander the winding lanes of the Old Town to discover countless boutique shops, restaurants and the 16th-century Gate of Dawn, where locals pray to a gold and silver Madonna.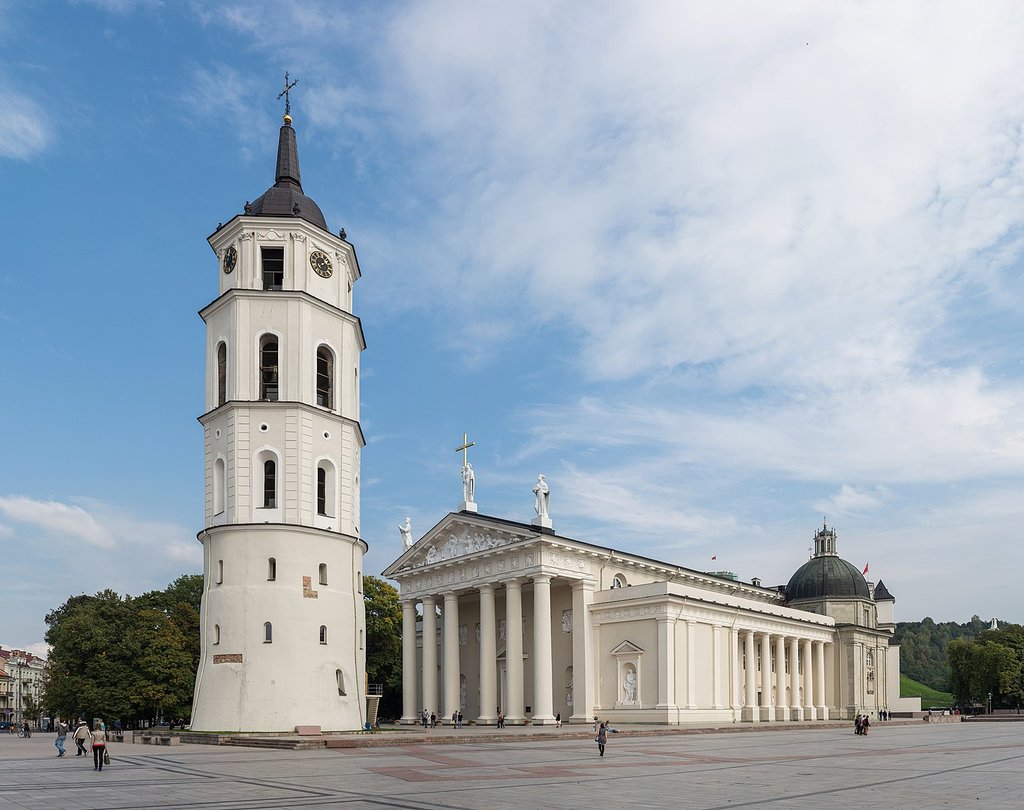 _By Diliff - Own work, CC BY-SA 3.0, https://commons.wikimedia.org/w/index.php?curid=37937508_Count the Number of Churches
While exploring Vilnius, you can't help but stumble upon seemingly innumerable baroque churches - as well as a good few monasteries too. St John's Church on University Street has city views from the top of its bell tower, while the Gothic architecture of St Anne's Church is among the most striking in Europe - so much so, Napoleon wanted to take the entire building back with him to Paris.
Visit the Museum of Occupations and Freedom Fights
Housed in the former headquarters of the Gestapo and KGB, the Museum of Occupations and Freedom Fights gives an essential insight into the city's past. Thousands of Lithuanians were held as prisoners here, many of whom were tortured and executed, or deported to serve hard labour in Siberia.
The rooms have been left much as they were, with eerie sound-proofed cells, bullet-marked execution chambers, and haunting messages from prisoners carved into the walls. While the museum focuses on the period under Soviet rule, there's also a room dedicated to the Holocaust.
Drink a Craft Beer in Uzupis
Take a stroll across the river to Uzupis and enjoy a local beer in one of the area's trendy bars. This is Vilnius' bohemian hub, where artists rule the land - quite literally. In 1997, this district declared itself an independent republic of artists and free-thinkers.
You can read their constitution, in numerous languages, on the metal plaques that hang along a wall on Paupio Street. As well as a lively bar and restaurant scene, Uzupis also has several independent galleries and street art to seek out while you're there.
Taste Local Food at Hales Market
Lithuanian food used to have a reputation for being stodgy, but a growing café culture and restaurant scene is putting a stop to that. A short walk from the Old Town, Hales Market is one of Vilnius' oldest markets and is an ideal introduction to the city's seasonal produce.
Wander through the lively stalls to browse the piles of fresh fruit, honey, local cheeses and smoked meats. There are also plenty of cafes and benches to stop for a coffee or a pint of craft beer.
Book it: Private Hales Market Tasting Tour
Browse Traditional Arts and Crafts Shops
Lithuanians still practise many traditional folk crafts, such as embroidery, black pottery, and blacksmithing. Amber and glassware are also a speciality of the area, often made into jewellery and pretty trinkets.
There are boutique shops across the city, and several have open workshops where you can see the artists at work. If you want to find out more about the crafts, be sure to check out the Amber Museum-Gallery, the Blacksmith Museum-Gallery and the folk traditions room at the National Museum of Lithuania.
Visit the Palace of the Grand Dukes of Lithuania
Just behind Cathedral Square, the Palace of the Grand Dukes of Lithuania is another essential stop. There's been a residence on this spot since the fourth century, which has taken many forms, including a wooden settlement, a gothic castle and a baroque palace.
The restored building is now home to a museum, showcasing the history of Lithuanian life over the last two thousand years. Follow one of four themed routes to learn more, taking in the ceremonial halls, traditional weaponry and architecture.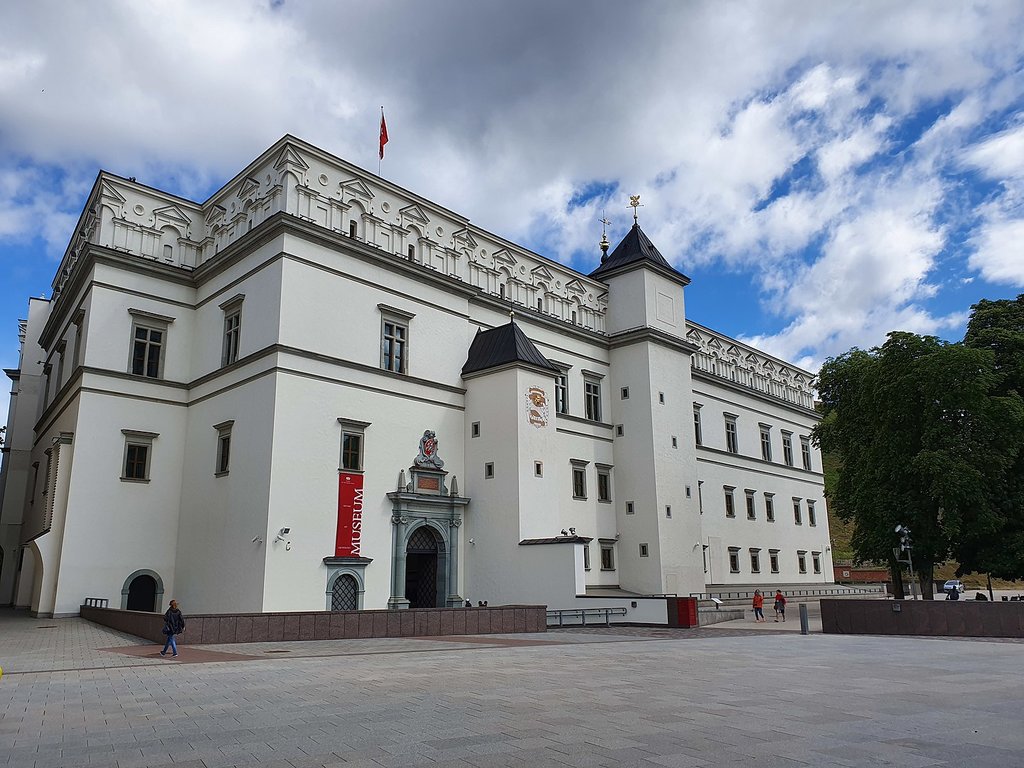 _By Pofka - Own work, CC BY-SA 4.0, https://commons.wikimedia.org/w/index.php?curid=80287190__Find somewhere to stay by browsing our hotels in Vilnius._