Ireland isn't known for tropical weather, but it has beautiful summers that aren't too hot and mild winters that are cool and comfortable, as well as plenty of sunny days. Ireland also has stunning beaches, some of the most beautiful of which are in Dublin, the Republic of Ireland's capital city. Check out Dublin's best beaches to plan your holiday.
Burrow Beach
Located near Sutton on the Northside, Burrow Beach is a sweeping, sandy shoreline tucked away from the road and sheltered by private homes, making it one of the best places for a relaxing beach day. It's not only picturesque, but it also has velvety sand, soft winds and dramatic dunes. You could spend the day lounging in the sun or waiting for the sunset over the distant Ireland's Eye and rocky cliffs.
Tower Bay
When the weather's warm, Tower Bay is a hot spot for sunbathing and swimming. Located on the Donabate peninsula, the sheltered beach has cliffs that block the wind, soft sand and crystal-clear waters for a perfect beach day. If you're looking for more excitement, there are coastal cliff walks near the beach for beautiful views of the Dublin Mountains.
White Rock Beach
One of the hidden gems of Dublin is White Rock Beach, a small beach with a laid-back atmosphere and stone steps that lead to the shoreline. Even on a cool day, visiting White Rock Beach is a must to see the picturesque weathered cliffs and the views of Dalkey Island off the coast.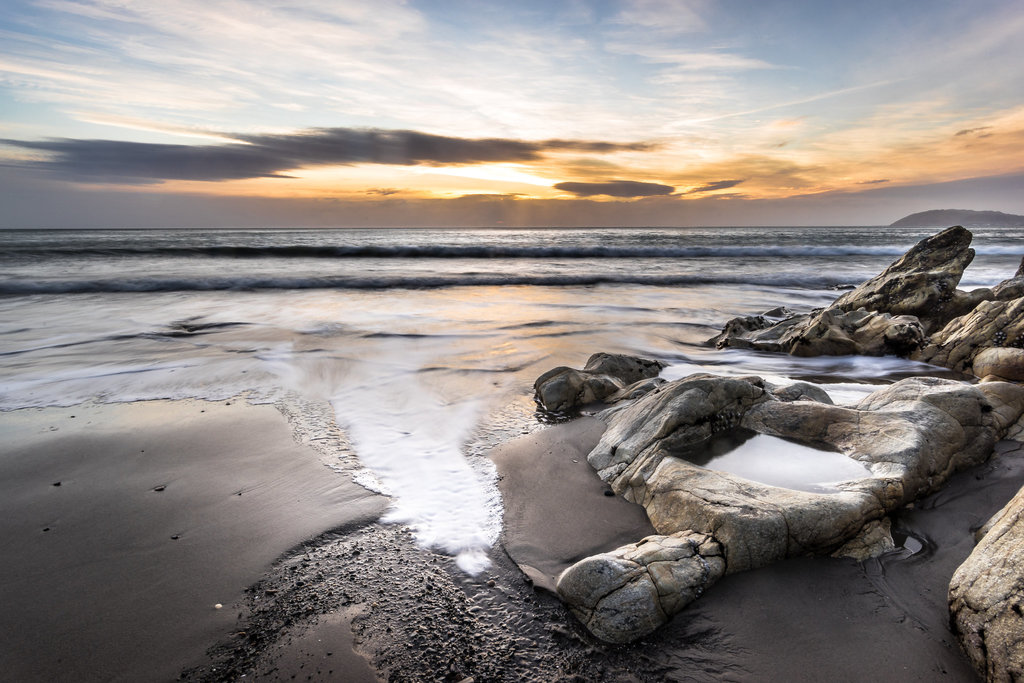 Sunrise in White Rock, Dalkey, Ireland by Giuseppe Milo - CC BY 2.0 (https://creativecommons.org/licenses/by/2.0/) - https://www.flickr.com/photos/giuseppemilo/16106385517
Velvet Strand
The Velvet Strand is a popular spot when the sun comes out. Located on the Northside of Dublin near the centre, the long beach is great for jogging and running, and there's plenty of space for couples and families to relax in the sun or have a picnic. Nearby, you'll find an ice-cream stand for cold treats in the warm months.
Dollymount Strand
Dollymount Strand is one of the most famous beaches in Dublin. It's located on Bull Island off the coast of Clontarf, which you can reach by a wooden bridge. This beach is popular with runners, joggers, dog walkers and kitesurfers. There are plenty of sand dunes as well, which give you excellent vantage points to see Dublin Bay.
Sandycove
If you prefer a more rugged beach, Sandycove offers a quiet, untamed spot. The small cove beach in South Dublin is a popular place for divers and snorkellers who favour the sea life and those who enjoy exploring the rocks in the area. The beach gets busy on sunny days, but you'll have it all to yourself for undersea adventure when the skies are grey.
Seapoint
Seapoint Beach is a Blue Flag beach that's popular for swimming at high tide and sunbathing on a sunny day. Though the waters can be treacherous at low tide due to the large rocks, the clean, crystal-clear waters are perfect for swimming and snorkelling. Martello Tower, a former defence tower from the Napoleonic invasion in the early 19th century, is a great landmark for history buffs.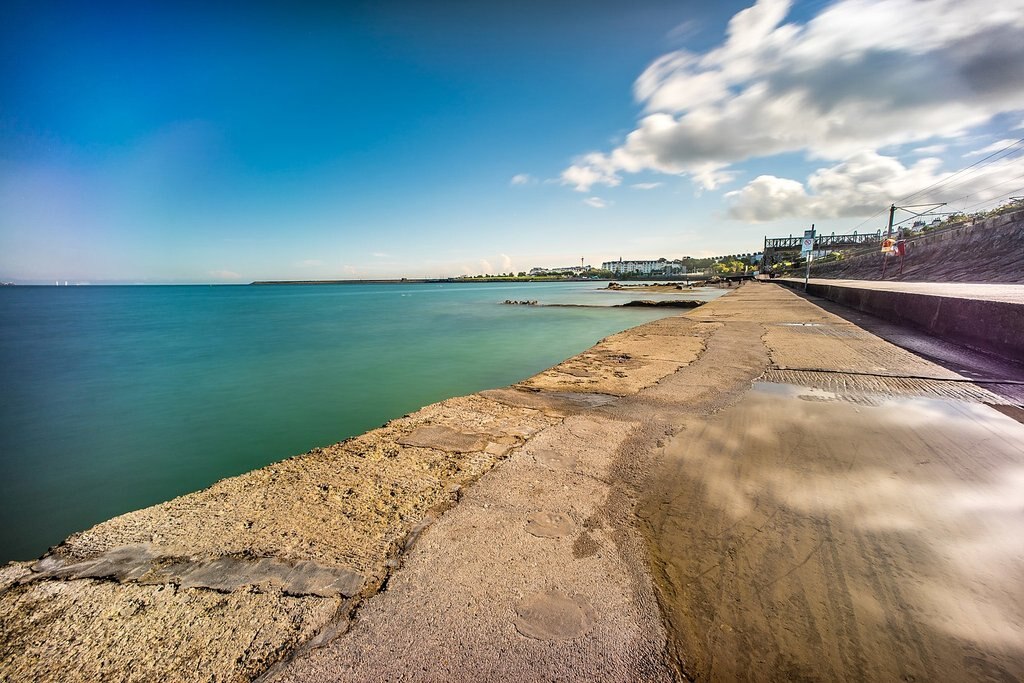 By Giuseppe Milo - Imported from 500px (archived version) by the Archive Team. (detail page), CC BY 3.0, https://commons.wikimedia.org/w/index.php?curid=71359564
Dalkey Island
If you're looking for more adventure, Dalkey Island is the ideal spot. The secluded island is more difficult to access, but it's worth it for the opportunities for sea kayaking to see seals, jellyfish and cormorants. On the island, you can relax on the beach or explore the ruins of St. Begnet's Church and the surrounding wilderness.
South Beach
The picturesque South Beach in Skerries is a serene stretch that's close to the town centre. The popular beach has seasonal lifeguards and soft sand, perfect for families with children, and nearby amenities in town. Off the coast, you can see the Rockabill Lighthouse and multiple islands.
Balcarrick/Donabate Beach
With its views of Lambay Island and the Malahide Estuary, Balcarrick/Donabate Beach is a great place for quiet walks and sunset relaxation. Canoeing is also popular in the waters along the beach, as is exploring the sand dunes and low-tide rock pools.
Killiney Beach
Killiney Beach is a rocky beach on the north end of the bay in White Rock. The beach has pebbled sand and excellent swimming at high tide, as well as gorgeous views of Dalkey Island, Sorrento Terrace and Sugar Loaf Mountain.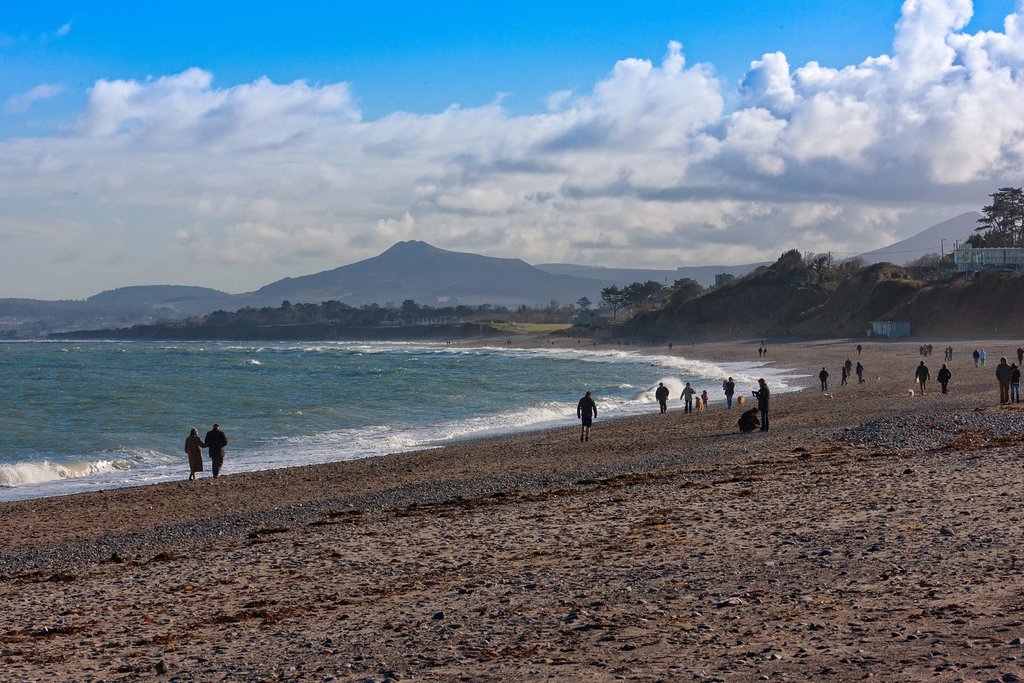 Killiney Beach and views from the beach by William Murphy - CC BY-SA 2.0 (https://creativecommons.org/licenses/by-sa/2.0/) - https://www.flickr.com/photos/infomatique/34940964820
Ready for your seaside trip?
Dublin has an array of beautiful beaches to suit every type of traveller, from outdoor adventurers to families with children. When you're ready to plan your trip to Dublin's beaches, visit Expedia to browse Dublin holidays and check out other fun things to do in Dublin.
Photo Credits
Cover pic: Sunrise in White Rock, Dalkey, Dublin, Ireland by Giuseppe Milo - CC BY 2.0 (https://creativecommons.org/licenses/by/2.0/) - https://www.flickr.com/photos/giuseppemilo/15709842324