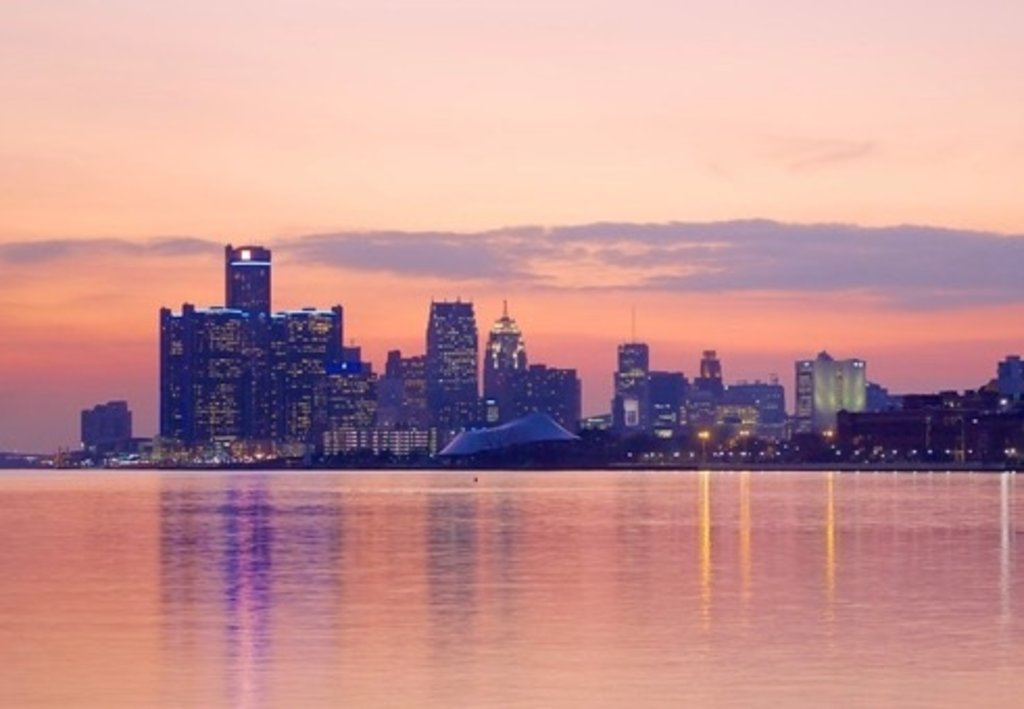 Like an art-house movie on Netflix that you know you need to watch but the time never feels quite right, Detroit, Michigan, has been in our "queue" for several years.
We've paid attention from afar as the popular narrative about the city has shifted from tabloid tales of a modern ghost town to stories of urban renewal and revitalization. Like those stories, our interest in the city has also shifted from removed fascination with a city on the decline-something that seemed so unlikely for a city in the United States-to a deep interest in a classic American icon that seems to be poised to retake its seat as a trendsetter and culture shaper.
A confluence of events has made it very clear to us that 2016 is the year to head to the Motor City. Here are three reasons why:
Architecture.We were aware that Detroit has quite a bit of historic architecture, but we didn't know just how significant the city's architecture is. In fact, when we think Detroit, we picture the hulking GM Renaissance Center looming over the Detroit River, which is impressive in pictures but not something we are chomping at the bit to see first-hand.
Apparently, we have a lot to discover! In 2016, the U.S. Pavilion at the Venice Biennale, a global exposition dedicated to innovation in architecture, will be entirely devoted to recognizing the architectural significance of Detroit and the role it has played in shaping the modern city. More importantly, the pavilion will be exploring ways that the city, once recognized as the "center of American imagination," can serve as a testing ground for urban renewal and a catalyst for shaping next-generation urban culture.

Food. From what we've read, there is a bit of a foodie renaissance happening in Detroit, which seems apropos of a city on the rebound. Our curiosity is piqued by stories of an emerging food scene driven by pop-up restaurants that serve as incubators for culinary innovation. One that really grabbed our attention is (revolver), which hosts a revolving (see what they did there) list of guest chefs for very popular "table d'hote" dinners.
Beyond the restaurant scene, we've read about something that is downright impossible in most cities: large urban farms. Apparently, Detroit has a lot of open space within its massive boundaries (approximately 139.1 square miles), some of which is related to razed buildings making way for urban pastures. In response, the nation's largest urban agricultural movement has sprouted, and several area restaurants source produce directly from these farms. Some farms, like Food Field, also sell their veggies at Detroit's historic Eastern Market.
Art. Artists have long played a critical role in urban revitalization. We've seen it in almost every city we've visited: emerging neighbourhoods of derelict-warehouses-cum-performance-spaces-and-art-galleries, which both underpin and give way to full-on gentrification (and push out the very artists who laid the foundation for the transformation, but we digress). So there is no surprise that artists are playing a key role in Detroit's renaissance.
We read about a thriving scene that seems completely unfettered when it comes to artistic expression and an environment that serves as a template for the art that just can't happen elsewhere-pop-up sculpture parks and abandoned houses transformed into massive art installations. To the above point, that kind of thing does not last long.
It is time to move Detroit to the top of the queue.
Article by No Vacation Required
Kent and Caanan are self-described fulfilment fanatics who rejiggered life so that every day could be a dream day. They started a virtual business in order to travel deliriously, give back, and make a living from anywhere doing work they love. They most love writing about LGBT getaways, nature-centric adventures, the tech side of travel, globetrotting with purpose, and luxury escapes that aren't fussy. They also write about life and their zig-zagging journey and adventures at No Vacation Required. Check it out for stories and to get inspired to create your own version of a "no vacation required" life.