Groningen has a long and unruly history, but thanks to the many students, the city has always been young. There is always something to do in Groningen and not only for people with a big wallet. The cultural festivals in the summer are often free and there are countless places to eat that have a reasonably priced menu. Groningen is a great destination for all budgets.
Planning to visit The Netherlands for the King's Day celebrations? Check out all of our King's Day holiday deals.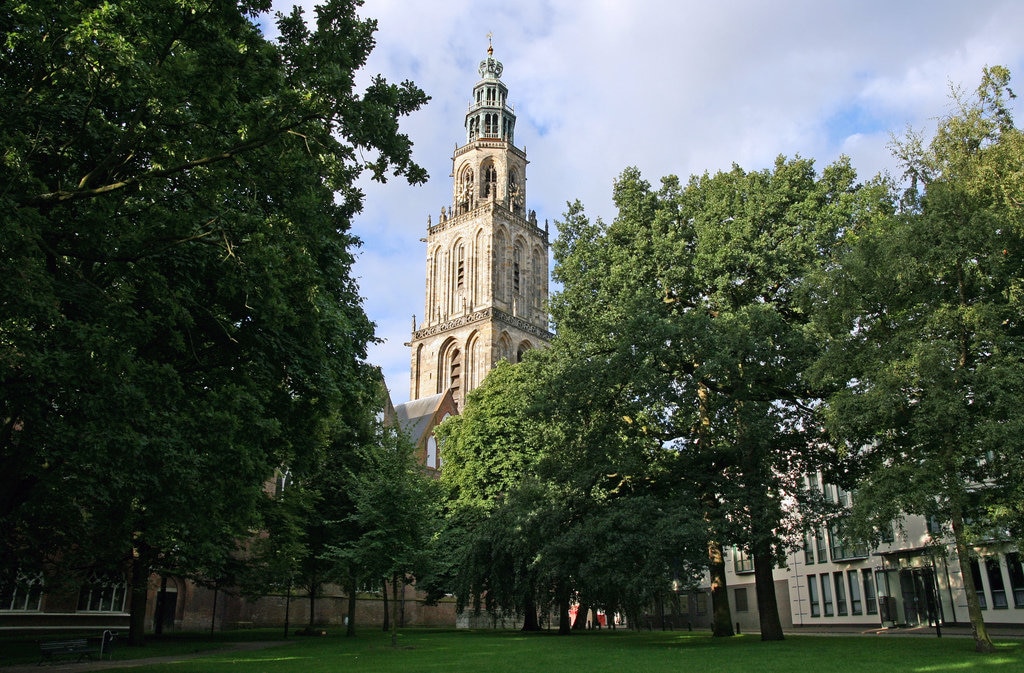 INDOOR BUDGET
Climb the Martinitoren
At 96.8 metres, the Martinitoren (1) is the tallest building in the city centre. Groningers lovingly refer to their tower in their dialect as 'd'Olle Grieze', or 'the old man'. Climbing the tower is a bit of an effort - some 200 steps of an effort - but once you get to the top you will be rewarded with a beautiful view of the city. Tickets for the tower (3 euros) can be purchased at VVV (Tourist Information Office), located in a colourful building on Grote Markt that you cannot miss. Four hundred steps later (200 up and 200 down), a sweet reward awaits you at the bottom of the tower. Koffie & Theehuis De Kostery (2) has a wide variety of fresh pastry.
Learn about comics, dinosaurs and science
There are a number of museums in Groningen where you can get a whiff of art and culture for less than a 10-euro admission fee. In the Noorderlicht Fotogalerie (3), you can admire works by young local and internationally acclaimed photographers. In the Infoversum (4), you can see 3D films and exhibitions about various wonders of the world, such as the starry sky and dinosaurs. And for less than 5 euros, you can learn all about scientific discoveries - current and past - at Universiteitsmuseum Groningen (5).
Visit the city's eyecatcher (for free)
Behind the Martinitoren, you will find Groningen's oldest church: the Martinikerk (6). Although its name suggests otherwise, the two buildings are not officially associated. Archaeological research has revealed that at least two other churches have also stood in the same location. Today's Martinikerk dates back to the 15th Century. In addition to Mass, the church also hosts concerts and other cultural activities. You can have a drink (with a view of the Martinitoren) in 't Feithuis (7), a beautiful classical building dating back to the 1400s with a modern interior and beautiful sunny garden.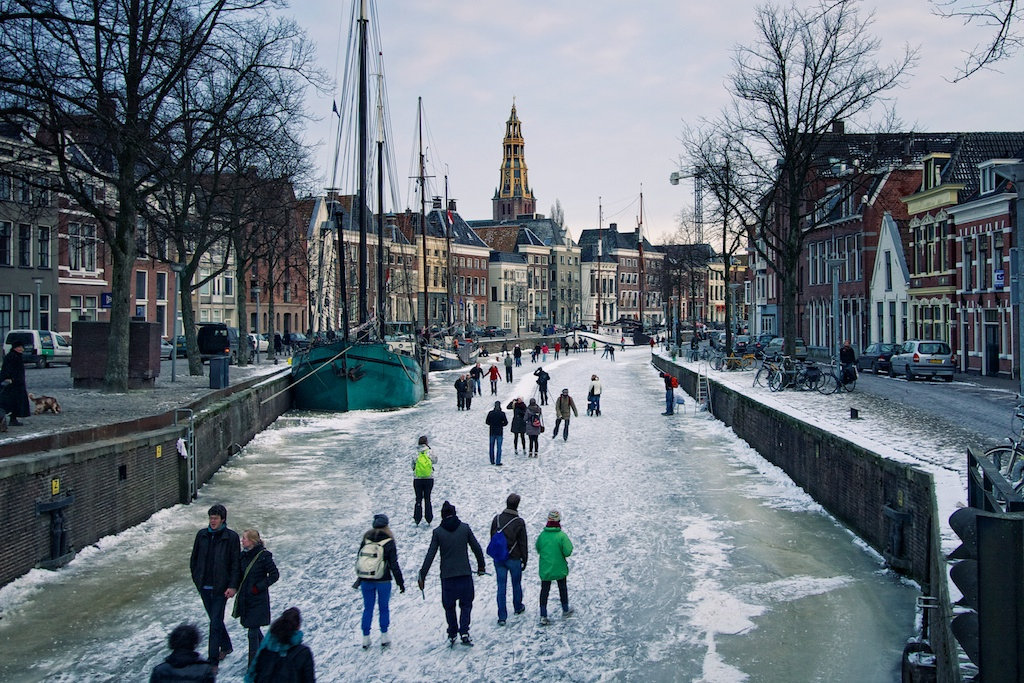 OUTDOOR BUDGET
Paddling through Groningen
Discover Groningen from the water. For a few euros, you can take a boat ride along historic buildings and beautiful bridges with Rondvaartbedrijf Kool (8). This is a great way of seeing the city from a different perspective. Romantic candlelight tours are organised in the winter. Want to paddle through the city on your own? Not a problem. 't Peddeltje (9), an initiative of Humanitas Onder Dak Groningen, hires out canoes and boats. They will also provide you with a lunch package for less than 5 euros.
Relax like a prince in a royal garden
Behind the Prinsenhof in the city centre, you will find a green oasis of tranquillity: Prinsentuin. It's a great place to go after a walk around town to enjoy the views, the roses and the herb garden for free. The yearly free festival, Dichters in de Prinsentuin (Poets in the Prince's Garden), takes place in the summer. The best Dutch and Flemish poets present their own work. Between April 1st and October 1st, Theeschenkerij Prinsentuin (10) caters to the sweet tooth with muffins and Groninger notenkoek (Groninger cake).
The city's hidden stories
The blue painted tiles on a wall in Gelkingestraat (near Grote Markt) don't look like much more than an artistic tile wall. But it's more than that. Ons Blauwe Hart (Our Blue Heart) is an artwork with hidden QR codes that you can read for free with your smartphone or tablet. It's a neat way to find out what's going on in Groningen. Behind the tiles you will find stories, poems and some of the best tips for Groningen. The information changes every week. You can end the day in the same street with a good cheap meal at Grand-Café De Betere Tijden (11).
DID YOU KNOW?
Café de Grote Griet (12) on Grote Markt is named after the big canon Groningers used to defend themselves with in the 17th Century.
The flag of Groningen is made up of three bands of colour: green in the middle and white at the top and bottom.
FC Groningen was founded in 1971. The amateur club that the football club originated from was founded in 1915.
Groningen-born Aletta Jacobs was the first woman in 1871 who was admitted to a Dutch university, the one in Groningen.
On May 5, Liberation Day celebrations take place in Groningen during the Liberation Day festival. In Stadspark, you can enjoy big national and international performances for free. There's also a field especially set up for kids.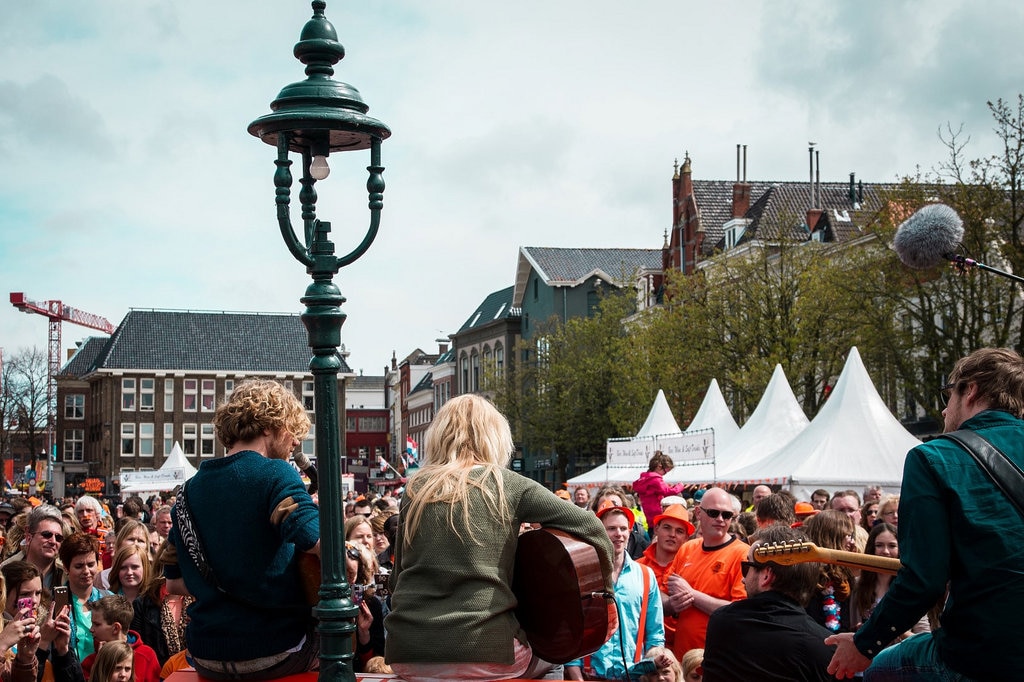 Practical information
Spending the night
There are countless budget hotels and B&Bs in the centre of Groningen. There are cute B&Bs in historic buildings near Martinikerk and Academiegebouw.
Food
Groningen is small and easy to explore on foot. Affordable restaurants are spread throughout the city. A place dear to Groningers is WEEVA (14). 'Woon- en Eethuis voor Allen' opened in 1871 as a 'soup kitchen'. Today it is a normal restaurant that serves regional dishes in a nostalgic atmosphere. The menu of the day costs around 10 euros.
Best time to visit
Groningen has a lot of things to do all year round. The museums, the stages and the theatres offer affordable and exciting exhibitions, performances and fun activities. There are free festivals in the summer and winter. If you are under 29, you will be able to go to a lot of music and theatre performances at a reduced rate.
ADDRESSES
1. Martinitoren: Martinikerkhof 1
2. Koffie & Theehuis De Kostery: Martinikerkhof 2
3. Noorderlicht Fotogalerie: Akerkhof 12
4. Infoversum: Vrydemalaan 2
5. Universiteitsmuseum Groningen: Broerstraat 5
6. Martinikerk: Martinikerkhof 3
7. Stadscafé Restaurant 't Feithuis: Martinikerkhof 10
8. Rondvaartbedrijf Kool: Stationsweg 1012
9. 't Peddeltje: Herebrug
10. Theeschenkerij Prinsentuin: Turfsingel 43
11. Grand Café De Betere Tijden: Gelkingestraat 21
12. Sportcafé de Groote Griet: Grote Markt 36/39
13. VVV Groningen: Grote Markt 29
14. WEEVA: Gedempte Zuiderdiep 8-10
Top three budget events
August: Noorderzon Performing Arts Festival is an international festival with theatre, dance and music. The stage performances at Noorderplantsoen are free. You will need an admission ticket for the performances in the tents and containers.
May: De Nacht van Kunst & Wetenschap (The Night of Art and Science) is a festival with workshops, exhibitions, scientific experiments, theatre, dance and free music performances at various locations around town.
December: WinterWelVaart (Winter Sailing) hosts concerts, performances, tastings and activities for kids on and around historical ships. Free admission.