Santorini is a picturesque island in the Cyclades Islands of the Aegean. Unlike other island destinations, Santorini's appeal lies in its dramatic volcanic sand and pebbled beaches with steep cliffs that overlook the coast. While there are many popular beaches, here are the best beaches in Santorini to enjoy a day in the sun.
1. Kamari Beach
Kamari Beach is one of the most popular in Santorini. Located in the seaside village of Kamari, the beach is at the base of the Mesa Vouno Mountain, which boasts the intriguing archaeological site of Ancient Thera. It's one of the longest beaches on the island and is made entirely of black volcanic sand with clear, clean water. It's a great beach for families, thanks to its many amenities like umbrella hire, lifeguards and showers.
Many water sports enthusiasts also enjoy Kamari Beach due to its excellent conditions for water skiing, windsurfing, paddle boating and surfing. A dive centre on the beach gives you the chance to take diving or snorkelling lessons to see the vibrant marine life in the area. Beyond the beach, there's a promenade with restaurants, cafes, bars, nightclubs and shops, so you can find fun after your day by the sea.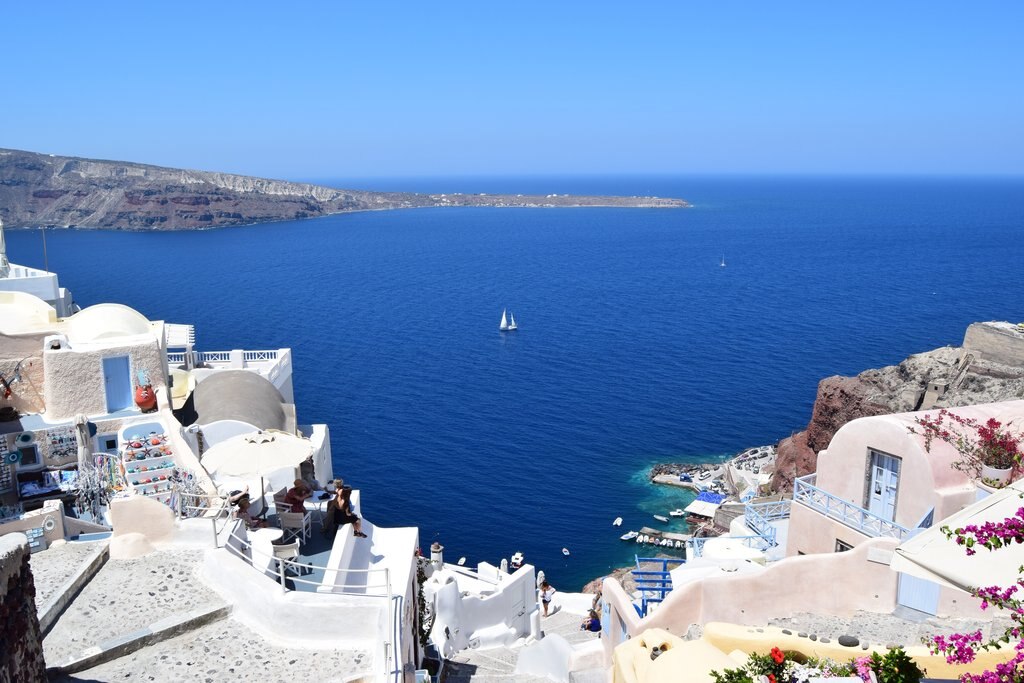 2. Red Beach
One of the most famous beaches in Santorini is Red Beach, a stunning beach with red cliffs and wild scenery. Red Beach is near Akrotiri Village and Fira, a valuable archaeological site of Akrotiri. The beach is accessible via a downhill path, which may be challenging for some people. The beach has no water sports facilities, but you can snorkel in the water to see the beautiful rock formations and native sea life. The beach is sheltered by the volcanic cliffs, so it offers calm waves that are great for children.
3. Agios Georgios Beach
Agios Georgios Beach is located on the southern tip of the island. The beach is clean and offers an array of amenities, such as umbrellas and water sports facilities. Many adventurers enjoy scuba diving, paddle boating and windsurfing in the beach's crystal-clear waters. The beach itself has beautiful grey sand and a serene tree backdrop, giving it a secluded feel. In fact, many visitors enjoy this beach for its few crowds and peaceful atmosphere. Nearby, you'll find cafes, bars and restaurants for dining and drinks after your day out.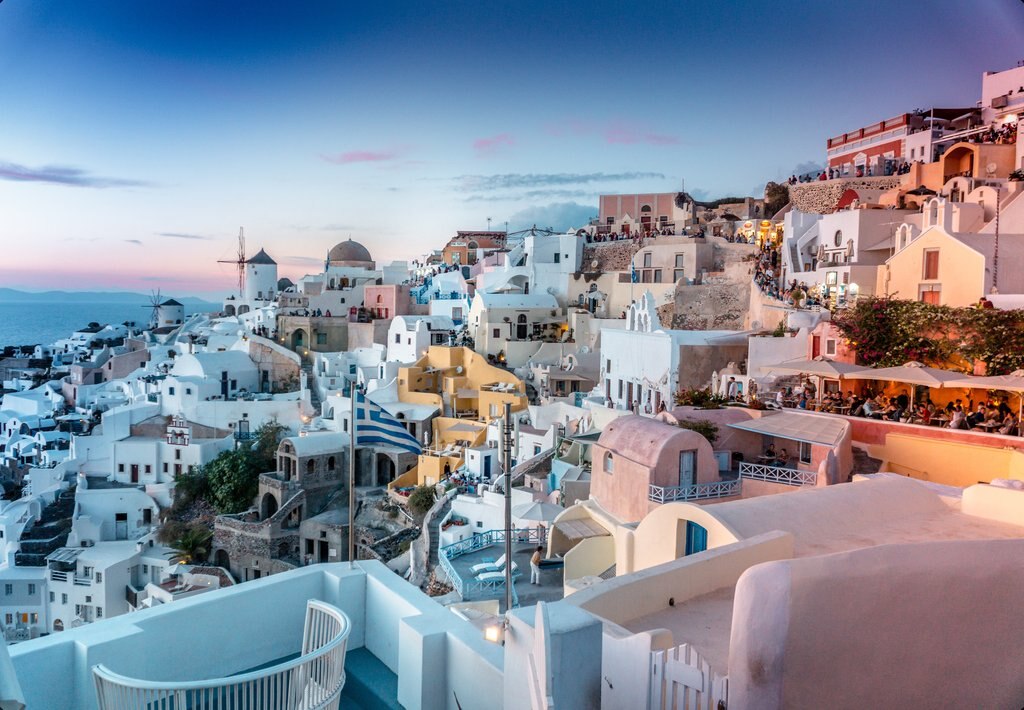 4. Perissa Beach
Perissa Beach is a picturesque beach at the base of the Mesa Vouno Mountain near Ancient Thera. It has black volcanic sand and clear, clean waters, as well as high-end amenities like umbrellas, lounge chairs, showers, a children's playground and lifeguards on duty. Water sports are popular at Perissa Beach, including parasailing, windsurfing, canoeing and banana boating. The beach has a popular dive site for experienced divers, and 2 diving centres for excursions.
If you're bringing the kids, you'll appreciate the water park with pools and slides for the kids to play away from the sea. Nearby, you'll find seaside restaurants, bars and cafes for dinner and nightlife.
5. Monolithos Beach
Monolithos Beach is a quiet beach on the east coast of Santorini. Named for the cliff that's the site of the Church of Agios Ioannis, Monolithos Beach offers a serene space for sunbathing and swimming. Its calm, shallow waters and children's playground make it a great choice for families, and its black and grey sand affords stunning photo opportunities. You'll find umbrellas, lifeguards, a football pitch, a volleyball court and a basketball court on the beach for plenty of entertainment options. Beyond the beach, there are bars, cafes and restaurants for dining and drinks after your beach day.
6. Cape Columbo Beach
If you're looking for an unspoilt beach, Cape Columbo Beach is the best choice. The beach is only accessible via a narrow path, though there is parking for cars at the start of the trail. Many visitors enjoy the secluded and relaxed feel of the beach, especially with its clothing-optional rule. Equipment rentals are not offered here, so be sure to bring your umbrellas, chairs and other beach supplies. The beach was named for the Columbo crater, which makes the waters warm and offers an interesting experience for veteran swimmers. Seal Cave is also close by, which is fun to explore if you're a strong swimmer.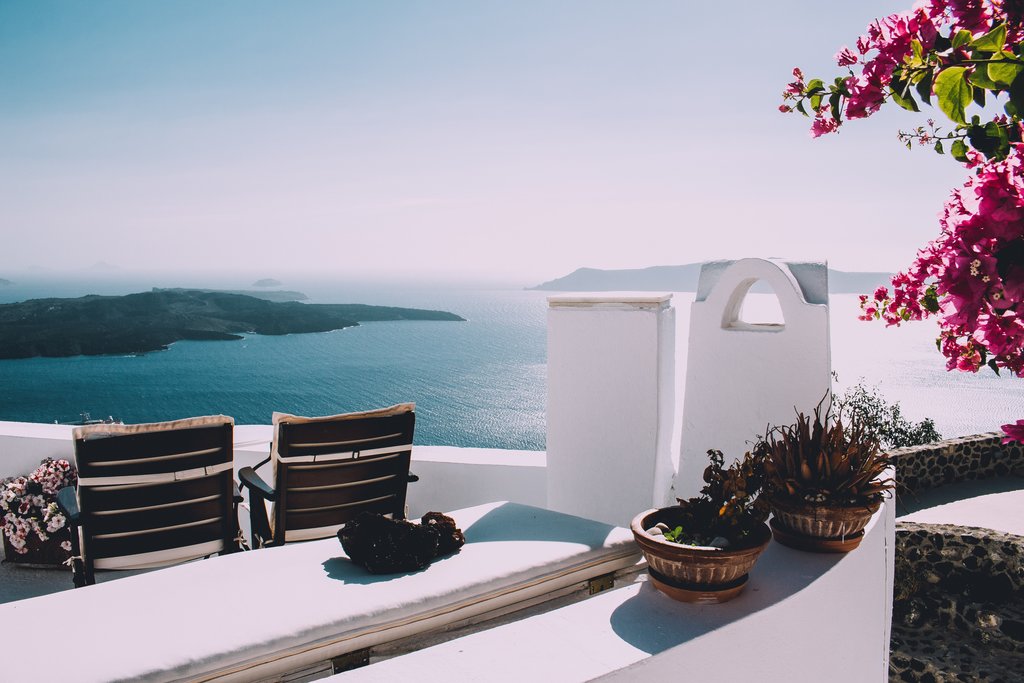 7. Perivolos Beach
Popular for events and weddings, Perivolos Beach is one of the liveliest beaches in Santorini and offers sparkling blue waters and black lava sand. As an event destination, the beach provides an array of amenities, such as lifeguards, umbrellas, showers, volleyball courts and an array of water sports options, including diving and windsurfing. The beach hosts regular volleyball tournaments and dance parties with famous DJs and performers. The bars near the beach have swimming pools for a relaxing place to enjoy a cocktail while taking in the views of the sea.
Ready to plan your trip?
Santorini is filled with lots of things to do, but its beaches are among its best attractions. If you're planning a trip, check out Expedia to get great deals on Santorini holidays and enjoy a wonderful trip on the volcanic island.