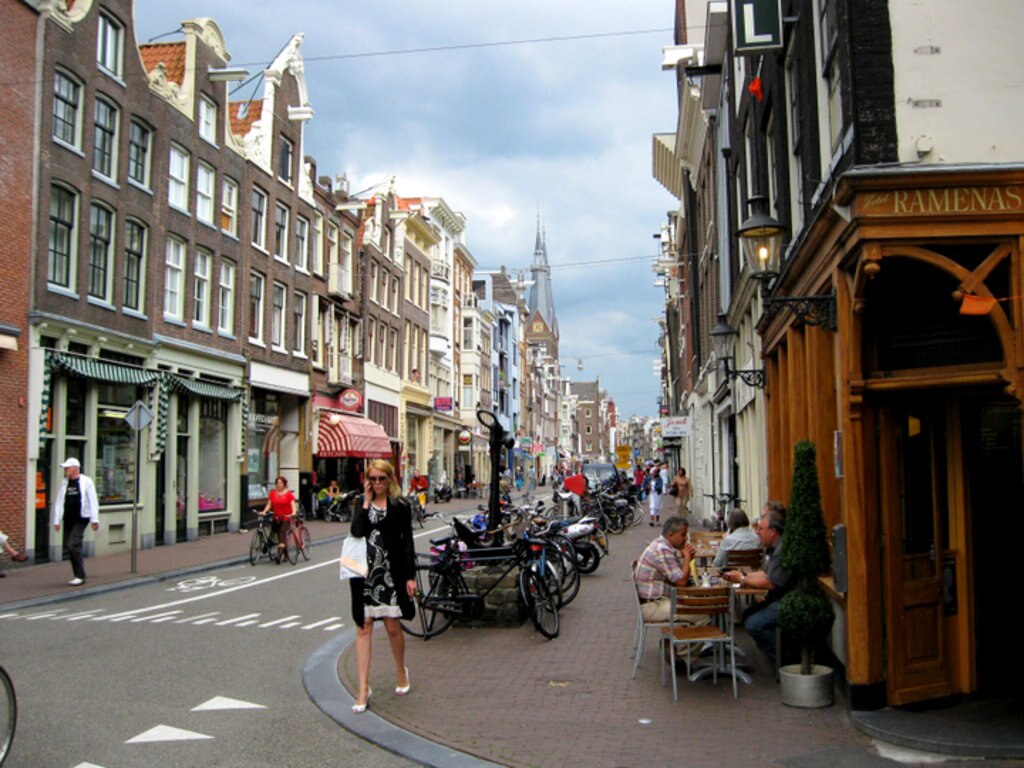 Dutchies in general are not a fashionable folk. There, I said it. We tend to favour practicality over style, mainly due to the fact that bikes are the most convenient way to travel around town. Cycling over cobblestoned roads, dodging tourists and cars while wearing heels isn't an easy task. But, in Amsterdam it's a different story. This is where the fashion-forward set are found.
Although not as edgy as Berliners, or as classy as Parisians, Amsterdam's style mavens like to experiment. And there's one area in the city that they seem to flock to.
While tourists often head to either the P.C. Hoofstraat in the posh south, where high-end boutiques are aplenty, or the Kalverstraat, situated in the city centre and perfect for those on a budget, locals are found in the hip Jordaan area where the 'negen straatjes' are located. Translating (aptly) to nine streets, this particular pocket of Amsterdam is synonmyous with local fashionistas and its pavements are lined with independent retailers.
Traditionally Jordaan was a workers' neighbourhood, but its links to fashion are deeply rooted. This was the centre of the city's leather trade and many of its streets are named after the animal hides that were bought and sold on them (Wolven and Beren mean Wolves and Bears, for example). Today, the area is popular amongst wealthy hipsters - boosting its cool credentials.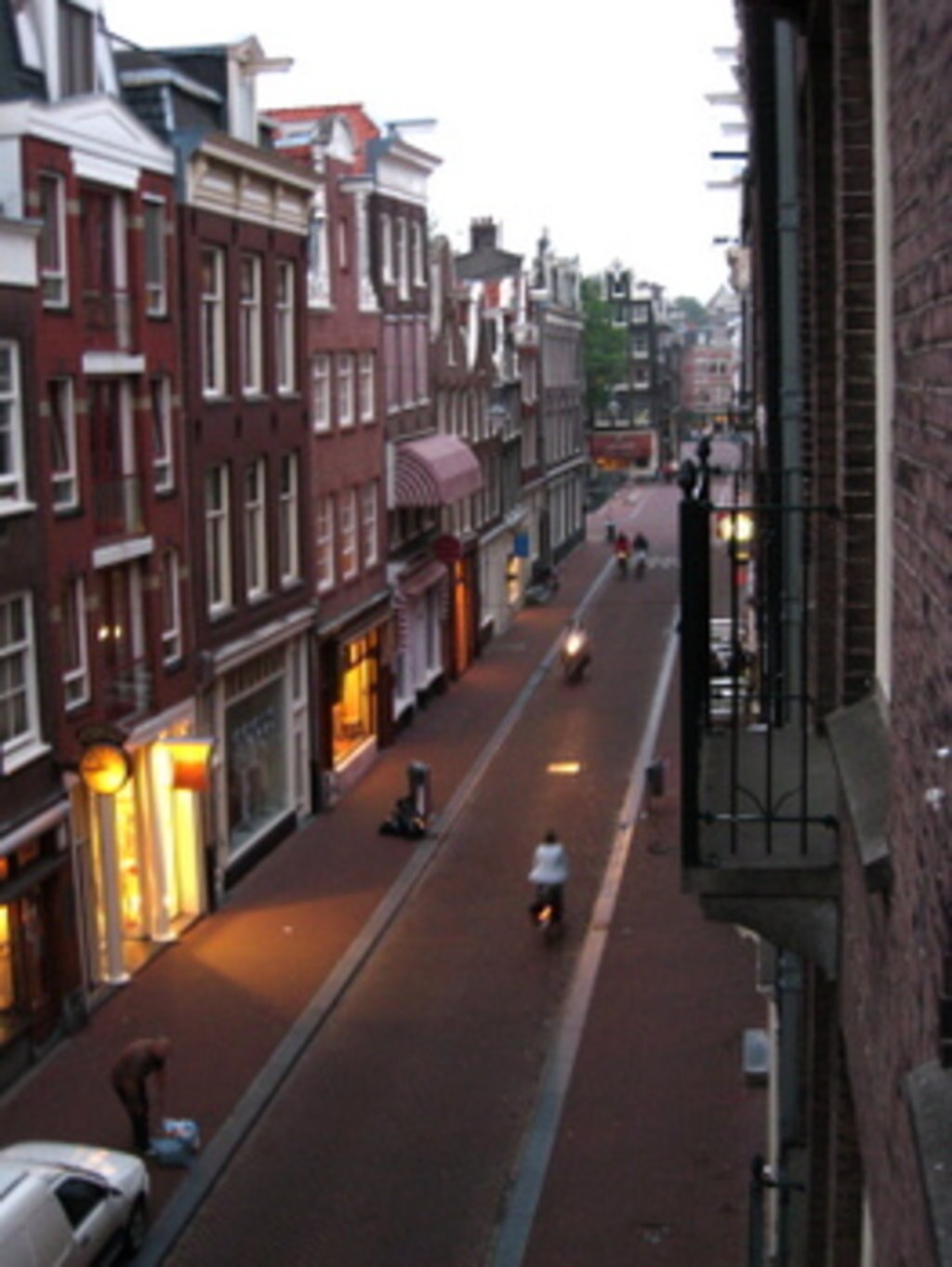 With nine streets to explore - Reestraat, Hartenstraat, Gasthuismolensteeg, Berenstraat, Oude Spiegelstraat, Runstraat, Huidenstraat, Wijde Heisteeg, and (my favourite) Wolvenstraat - there's a lot of ground to cover. So here are my recommendations for the shops that should not be missed on a shopping spree in Amsterdam.
Firstly, Rika (Oude Spiegelstraat 9) is a beautiful boutique store that sells gorgeous labels and timeless wardrobe pieces. Its sister, Maison Rika, is located across the street and sells the same quality products, but in the form of home wares. Then there's KO conceptstore (Wolvenstraat 9-11), a retailer I could practically live in. It sells a mixture of design products, from shoes and bags to golden pineapple statues and gorgeous leather passport covers.
B Juice (Huidenstraat 13) is the place to go if you need an energy boost to get you through your shopping frenzy. They make their juices fresh, and they're packed with flavour. On the other side of the road, and at the opposite end of the health spectrum, definitely be sure to pop into Pompadour (Huidenstraat 12). Just the display of sweets is enough to have you salivating. The decor of this patisserie, chocolatier and tea house is reminiscent of an old French café with its extravagant brocante interior.
For something extremely quirky, visit the Game Keeper (Hartenstraat 14), a store dedicated to original board games. Even if you don't have the suitcase space to take one home with you, it's fun to peek inside and see a little slice of Dutch culture.
Another unusual selection is the Brilmuseum (Gasthuismolensteeg 9), the 'museums for glasses'. It's basically just a vintage store that sells glasses, but its intriguing range features some frames that are over a hundred years old and have never been worn.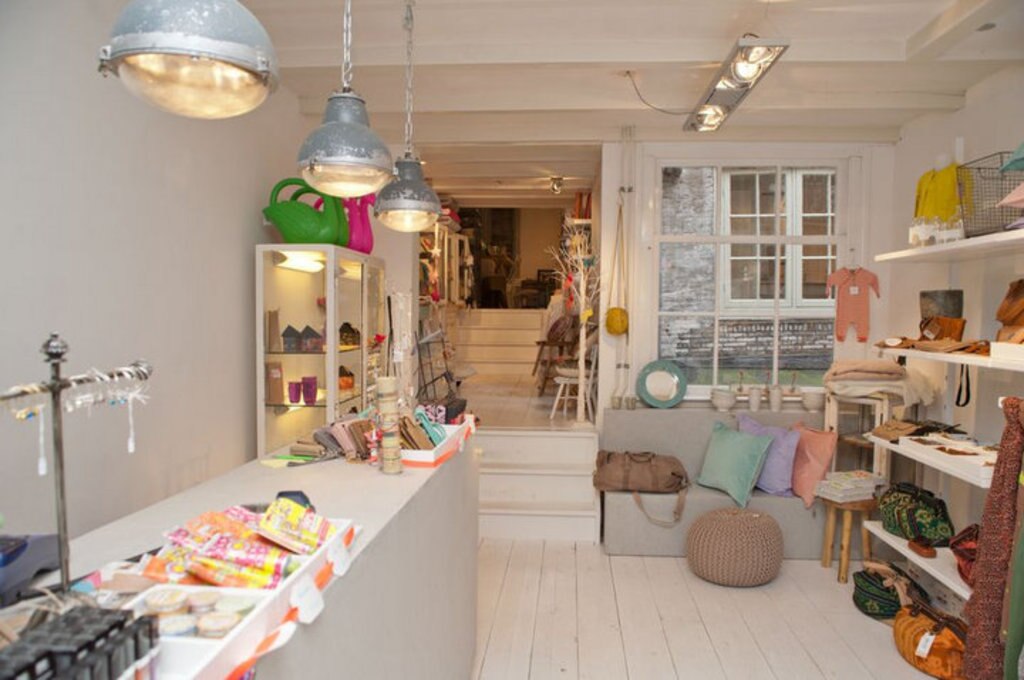 JOZ at Everywhere (Huidenstraat 26HS) only opened in April, but is already a new crowd favourite. It's a fashion and interior shop that's heavily inspired by travel, but there's no frills here, just straight up good design.
For gifts, Mint Mini Mall (Runstraat 27) is the place to go. Its shelves feature colourful lifestyle and beauty products, as well as a range for men and kids, all set against a white, minimalist backdrop.
PRJCT AMS (Gasthuismolensteeg 18) is my number one pick for menswear. It prides itself on selling products that were the result of collaborations between designers and creative entrepreneurs from all walks of life. The cuts and designs are very clean and crisp.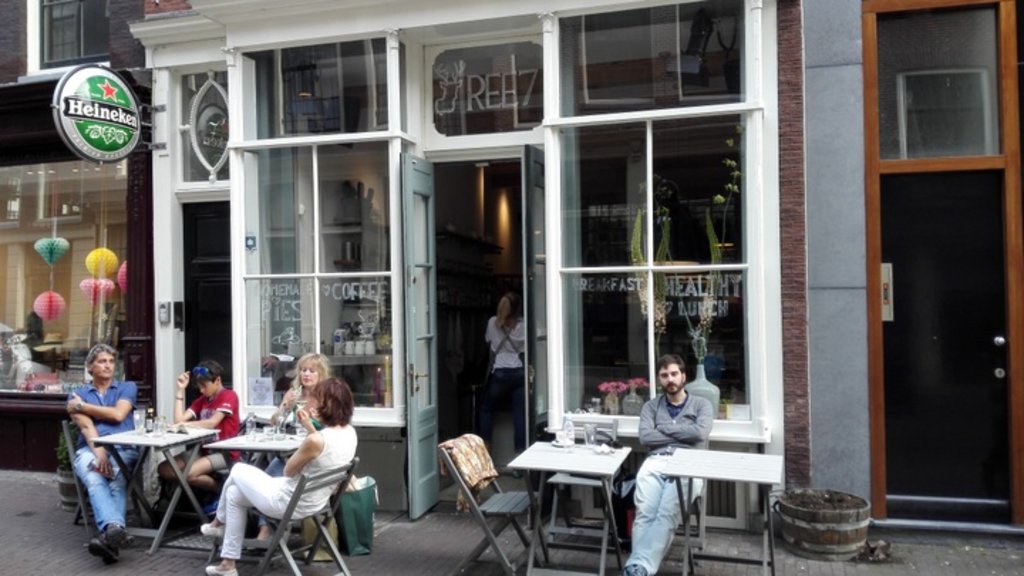 And after all that, food will no doubt be on the agenda. The best homemade pies in the Nine Streets region are said to be found at Ree 7 (Reestraat 7). But you can also munch on salads, sandwiches and more here. The big windows make for a very light and airy space, but it manages to maintain a feeling of cosiness.
At the ever-popular Wolvenstraat 23 (also the address) it's often hard to find seating, but this local favourite for lunch and drinks is worth the wait. If you're into design you'll find it hard not to obsess over the jungle-inspired wallpaper and brown leather chairs.
Burgerlijk Amsterdam (Runstraat 1) is also always extremely busy with people queuing for one of its mean burgers. This tiny little joint allows you to construct your own burger, and if you manage to get a seat outside, it's a great place for people watching.
Fancy doing some shopping in 9 Streets? Book an Amsterdam hotel and start planning your trip
Like this piece? You might also be interested in these ones:
Amsterdam: Kids Well and Truly Catered for in the Dutch Capital
Las Vegas: Retail Wonderland Caters for All Tastes and Budgets