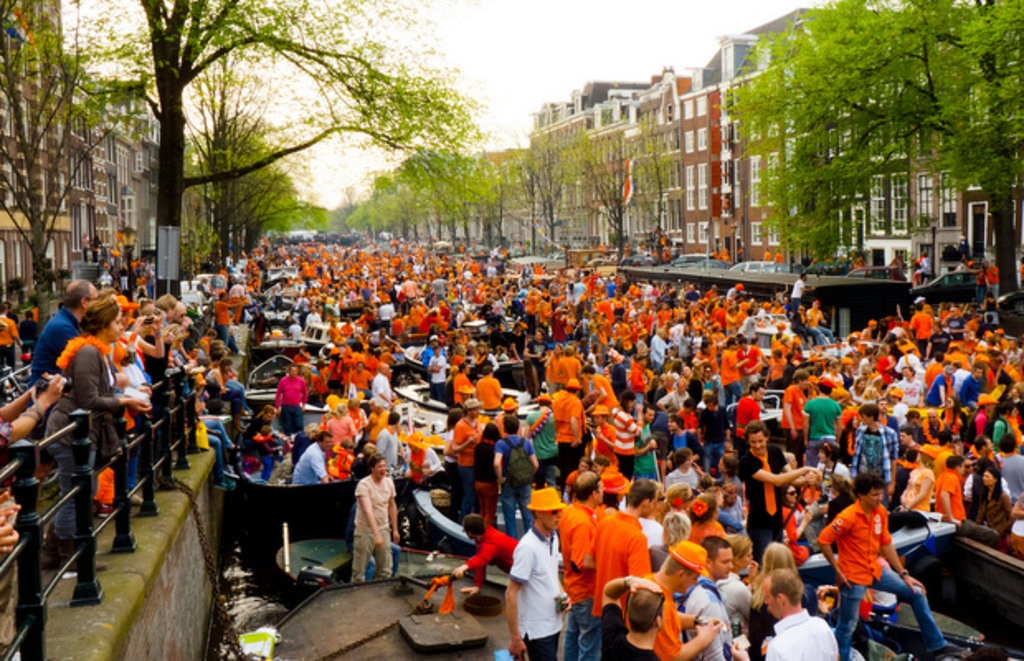 King's Day (April 27) is undoubtedly most Dutchies favourite day of the year, and it truly deserves its bucketlist reputation. My memories of King's Day consist of nothing but good things: sun, friends, parties, being surrounded by smiling orange-clad people and plenty of drinks. A carefree day, when the whole nation enjoys a magnificent party.
Why King's Day?
This is actually a new thing. Well, the name is. For the past 122 years the celebration has been called Queen's Day, but in 2013 our beloved Queen Beatrix abdicated and was succeeded by Willem-Alexander.
Traditionally, the celebrations took place on April 30, the birthday of Beatrix's mother, former Queen Juliana. When Beatrix was crowned, she didn't change the date out of respect for her mother. Her own birthday, in the cold month of January, didn't exactly help matters.
April 27 is King Willem- Alexander's actual birthday, and 2014 marked the first year we officially celebrated King's Day in the Netherlands.
King's Day came into being to celebrate the unity of the Dutch people, and this remains the main theme of the holiday: a day to come together as one. Traditionally, it was also the day where the royals would emerge from their palaces and castles, tour the country and mingle with us common folk. They would visit up to three cities or villages on the day, participate in popular traditional games such as sack-racing, koekhappen (in which participants are blindfolded and attempt to eat pieces of cake hung from a rope) or spijkerpoepen (don't even ask) with the inhabitants. And people flocked to see the much-loved royals.
These days, their schedule is less hectic, with just one city being chosen for a royal visit; this year it's Dordrecht. But all across the Netherlands people will be taking to the streets to in one huge community event. And it's sure to be quite the party; King Willem-Alexander got on stage with Armin van Burren when the DJ performed at his coronation, don't foget.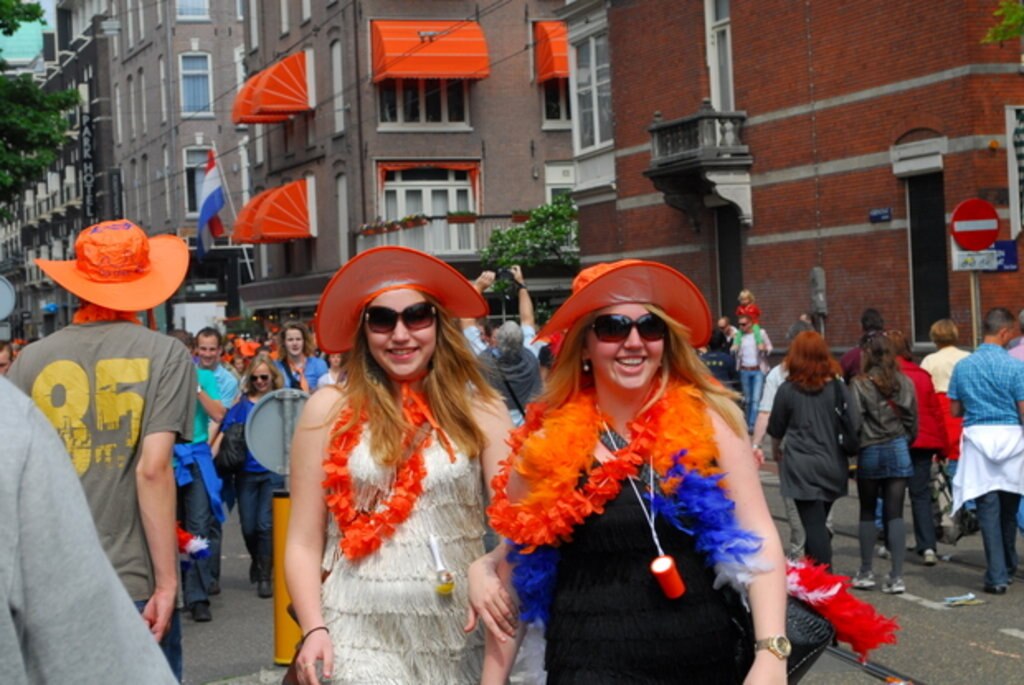 So, if you're visiting Amsterdam for the occassion, here's how to fit in like a local.
Do:
- Wear orange. This is rule number 1. You will definitely stand out if you don't.
- Try to get invited along to a boat party. Sadly I've never been this lucky, but apparently King's Day is even more fun (if possible) on the water.
- King's Day is celebrated all over the country, not just in Amsterdam. The capital will be extremely busy, but notwithstanding its party capital reputation, it's also fun to go explore the festivities in one of hte other cities, all easily reached by train. Utrecht has some lovely Vrijmarkten (more on that later!) along the canals.
Don't:
- Wait until the day itself to book a hotel room. You won't get one.
- Go sightseeing in Amsterdam. You can, as some of the main museums are open, but King's Day is a day to be enjoyed in its own right. If you just want to wander the city and see the attractions, you're better off scheduling your Amsterdam trip for another date, when the city is less busy and boozy - and more affordable.
Where to celebrate?
In my opinion, there are three key ingredients for a great King's Day experience.
Canals
If you have no set plans, the best thing to do is just immerse yourself in the festivities. Head to the city centre where you can watch find a spot along the canal, take in the atmosphere, and watch the party boats pass by.
Vrijmarkten
Vrijmarkten pop up all over the city during King's Day (and in other cities). It literally means free market, with anyone being able to reserve a little spot on the pavement and sell whatever they like (as long as it's legal). Haggling, something Dutchies collectively hate, is a national sport on this day. Everywhere you turn, food stalls selling anything from fries to spring rolls will get your mouth watering. I've heard there's real buzz about the vrijmarkt at NDSM-werf (on the north side of the IJ), but I will most likely be heading to the one in Vondelpark.
Parties
For King's Day, partying the night before is equally as important as the on the day, and you haven't properly experienced King's Day if you don't. All of the best nightclubs in Amsterdam will be hosting special nights, and on the day itself, there are plenty of festivals and free street parties you can attend (see list below). For the former make sure you buy tickets in advance.
Kingsday Festival, Olympisch Stadium, €34,50.
Kingsland Festival, Amsterdam Rai, €37,50.
Loveland van Oranje, Meerpark, €27,50.
Kingsday Houthavens, Houthavens, €23.
NDSM Vrijhaven King's Day, NDSM Werf, €23,50.
Oranjebloesem, IJkade Aambeeldstraat, €27,50.
Pleinvrees, Zaventemweg, €22,50.
Koning Disco, Bilderdijkpark, free.
Super Soso Lobi, Waterkant, free.
That's all you really need to know to make the most of our biggest national celebration. And if you do spot me amid the sea of orange, please do come up and say hello.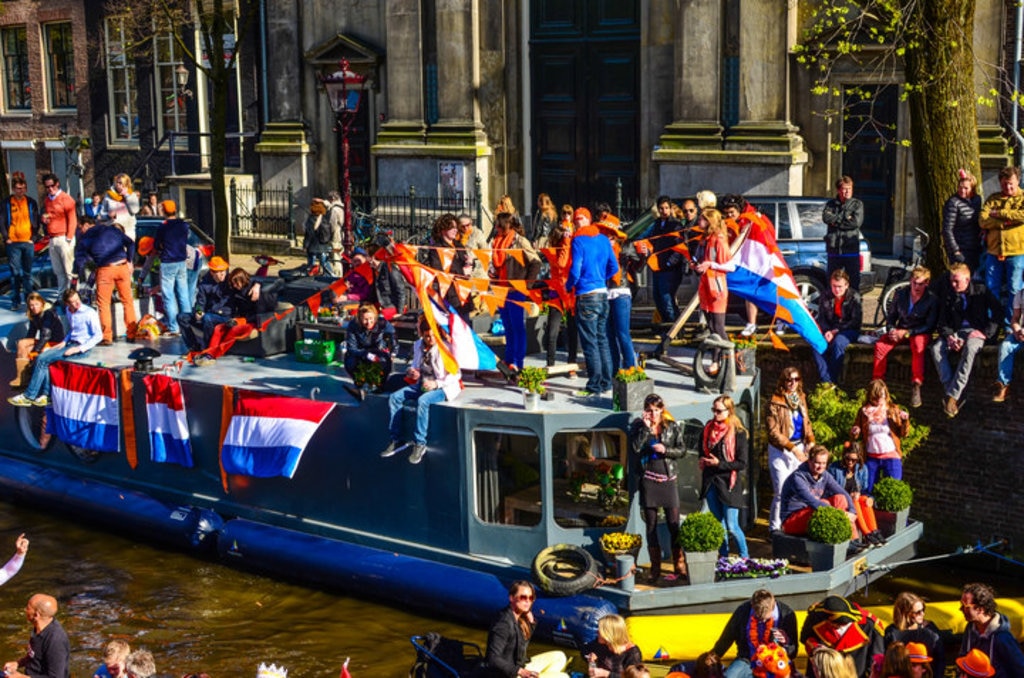 Planning to get amongst the King's Day festivities? Book your hotel in Amsterdam now to make sure you don't miss out.
Like this piece? You might also be interested in these ones:
Las Vegas: Weird and Wonderful Conventions Draw Millions
New York: The World's Biggest St Patrick's Day Celebration
Gallery Image Credits (from top)
1. Chris Platsikoudis
2. Giovanni de Angelis
3. Thomas Ricker