From its modern skyscrapers and luxury shopping to its cultural centres and historic sites, you'll never run out of things to do in Qatar. Whether you're travelling with the kids or on your own, you can spend your time exploring all the fascinating attractions the country has to offer for a memorable trip. Here is inspiration for 3- to 5-days itinerary to visit Qatar.
Day 1: Explore The Pearl - Qatar
The Pearl - Qatar is a large, artificial island near West Bay Lagoon that's home to a variety of luxury rentals, restaurants and shopping areas. Named for Qatar's pearl diving heritage, the island is divided into 12 distinct precincts with their own themes, ranging from Roman and Venetian architectural influence to tropical island design and gorgeous high-rise buildings. You could spend your whole day just wandering around to see the stunning architecture or taking a boat ride in the extensive canal system to take in the views from the water.
For lunch, you'll have your pick of a variety of excellent restaurant with varied cuisine options. You can have contemporary French cuisine at Les Deux Magots, Japanese cuisine at Junko, Argentinian cuisine at Patagonia or just enjoy pastries and sandwiches at one of the many cafes and bakeries. After eating, spend some time at the fine retail centres to shop for high-end brands like Calvin Klein, Giuseppe Zanotti or Roberto Cavalli.
In the evening, visit one of the local nightspots for dinner and drinks. Nightlife centres around the luxury hotels in the area, but you'll have your choice of Spanish finger food and cocktails at places like El Faro and Illusion, sushi at Nobu and specialty drinks at Glo Cocktail Bar.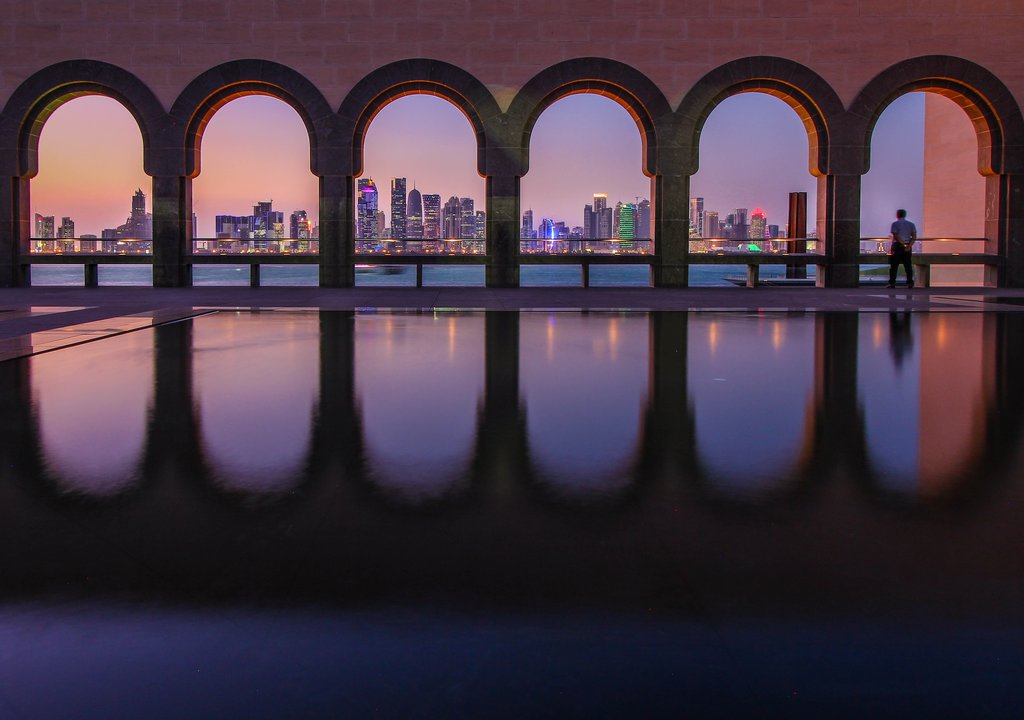 Day 2: Experience local culture at Qatar museums
On your second day in Qatar, start your morning with a hearty breakfast or brunch before heading out on your sightseeing excursion. You can choose between rustic international dishes from places like the Pool Grill, all-American fare like Texas Toast at Ric's Kountry Kitchen or a health-conscious breakfast of fruit pancakes and pressed coffee at Chef's Garden.
Qatar has a strong culture and heritage that's celebrated throughout its many museums. To really experience the Qatari way of life, the National Museum of Qatar and the Museum of Islamic Art are the best places to spend the rest of your day.
Focused entirely on the culture and story of the Qatari people, the National Museum of Qatar celebrates the history of the nation, from its earliest days to modern times, through immersive experiences. The Museum of Islamic Art showcases milestones in Islamic art from 3 continents, with a special interest on Qatar and its cultural value to the Middle East. In these museums, you'll see everything from inspirational paintings and sculpture to historic artefacts, textiles, and documents to get a feel and appreciation for the Qatari people.
The museums also have their own restaurants and cafes with excellent dining options. IDAM, a stunning and innovative museum with French-Mediterranean cuisine, is located within the Museum of Islamic Art, and there's also a cafe for a quick lunch of salads, juices and specialty entrees. You'll also like the Desert Rose Café, a spectacular Qatari restaurant in the National Museum of Qatar that was designed as a resting place during your museum tour.
Day 3: Explore Katara Cultural Village and surrounds
On your third day, you can experience some of the city's mix of culture and modern appeal. Head to the Katara Cultural Village to enjoy a fresh juice or smoothie at U'sha Frshka to prepare for your busy day.
After breakfast, you can spend time shopping the book market, handicraft souq and other retail shops. If you prefer a little adventure, Katara Beach is a prime destination for sunbathing, swimming and water sports, such as parasailing, windsurfing, wakeboarding, boating, knee boarding, sailing and fishing. For lunch, stop in the Al Jazeera Media Café to enjoy gourmet cuisine within an interactive broadcast studio.
After eating, you can stroll along the promenade to take in the views of the city's skyline and explore the vendor stalls. There are also theatres, galleries and other entertainment venues that have shows and performances, which is a great way to enjoy your night. You could also dine and enjoy some drinks at Mamig, an Armenian restaurant with a traditional atmosphere and terrace and rooftop seating with views of the city.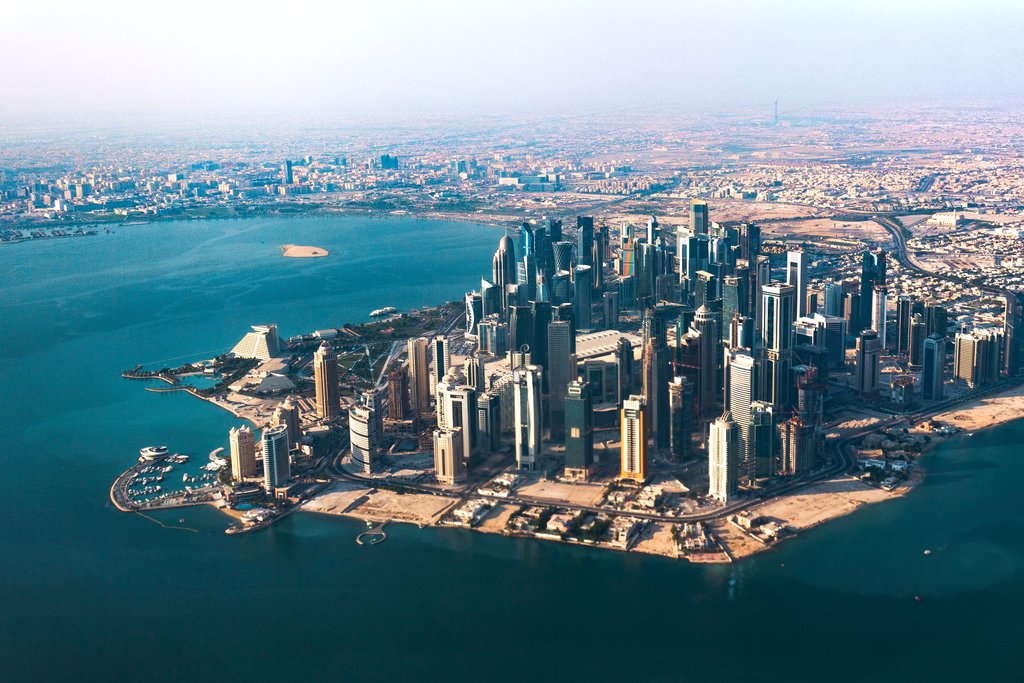 Day 4: Visit the Qatar National Library and the Villaggio Mall
If you're staying for a fourth day, it's a great time to visit some of Qatar's must-see attractions. Start your morning with lemon custard and rose cream French toast at the magnificent Tea Club, or sample a variety of dishes at the breakfast buffet at Vine.
Next stop is the Qatar National Library, a massive facility that's home to the National Library, the Public Library and the University Library. The library has over a million books in various languages across its huge campus, many of which are of particular value to Arab culture.
Though you could spend hours in the library, you should set aside some time to visit the Villaggio Mall, an expansive shopping centre with many high-end brands, numerous restaurants and its own cinema. You could catch a movie or, if you're bringing the kids, visit the Gondolania Theme Park for thrill rides, kiddie rides and the wildly popular Venetian gondola ride through the mall.
For dinner, visit the Al Hubara Restaurant for a grand Qatari buffet with an extravagant theme, such as carnivores delight, seafood night or Bahry Arabic night. The restaurant also has live cooking stations and an a la carte menu.
Day 5: Shop at Souq Waqif
For your last day in Qatar, you should visit the Souq Waqif. Start with a hearty breakfast of Arabic cuisine, homemade pastries, eggs and more at La Piazza.
From there, you can spend your days strolling the labyrinthian passageways of the traditional Souq Waqif, a massive marketplace with stalls selling everything from perfumes and aromatics to textiles, jewellery and traditional clothing. You can try unique beverages, fresh produce and artisan foods like gourmet ice cream from one of the vendors. While at the souq, be sure to stop at the Gold Souq, a separate area with specialty shops containing incredible high-end jewellery with gemstones and gold.
While at the Gold Souq, you can stop at Damasca One, a lavish restaurant with Arabic delicacies from Levant and Syria.
Plan your trip to Qatar
If you're looking to experience all that Qatar has to offer, Expedia can help. Take a look at deals on Qatar holiday packages to plan your trip and make the most of the experience!