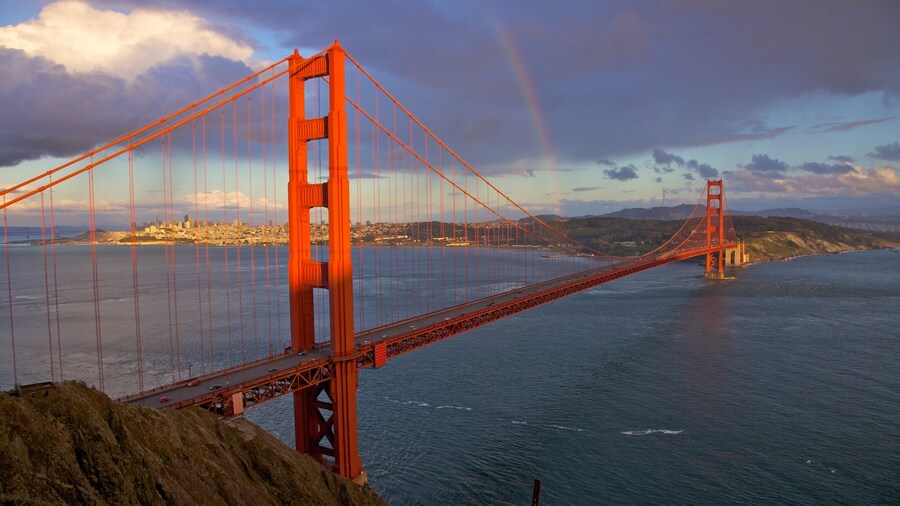 Search over 1 million properties and 550 airlines worldwide
Free cancellation on most hotels. Because flexibility matters.
Wild mountains, endless prairies, soaring cities, topical beaches and even arctic tundra — the USA is endlessly fascinating to explore by hire car. Sometimes it feels as if the spirit of every single continent can be found across its 50 states. No wonder people from all corners of the globe have made it their home, bringing with them their own culture, food and music. The result is a gleaming treasure chest of experiences to be had amid a rich variety of landscapes.
If you rent a car in the USA, then you can often pick up and drop off your car at different locations for an extra charge. This means that you don't have to restrict your adventure in any way at all. So whether you are planning to hit Route 66, cruise along the Pacific Coast Highway or even take a coast-to-coast trip, the car hire options are there for you. And if you are looking for a truly rugged adventure, then the Rocky Mountains, Arizona > desert and Alaskan plains are all well worth exploring.
Whatever your plans, most major car hire providers will have a vehicle to match, whether that's a classic convertible or sturdy SUV. We've provided a handy overview to cheap car rental in the USA below.
What Do You Need to Rent a Car in the USA?
You don't need an international driver's licence to rent a car in the USA. Instead, you just have to be 21 with a valid licence from your own country and a passport. However, bear in mind that some car hire agencies won't rent a car to anyone under 25 years old or will only do so if they pay a young driver's surcharge. This can be around $20 to $25 (approx. £15 to £20) per day.
Bear in mind that most rental car providers will also require you to pay a deposit and have a credit card, although some will accept cash.
Tips for Hiring a Car in the USA
When booking a rental car, it is best to do so in advance of your arrival as you can often get cheaper deals this way. If you will be driving across hotter states, it is very important to make sure that your car has air-conditioning. As well as this, make sure that satnav is included too if you need it. For longer or more out-of-the-way trips, check if your rental company includes safety extras such first aid and puncture kits.
What Is Included and What Isn't When Hiring a Car?
When you are exploring car hire comparison in the USA, remember that with Expedia, you can enjoy various perks. These include free cancellation up to six hours before pick-up, Nectar card points and Expedia rewards.
When obtaining quotes from providers, it is best to check each one very carefully to see what's included. This is because some car rentals don't include unlimited mileage, local taxes or insurance, so it is best to check the finer details before signing on the dotted line. Don't forget that it is illegal to drive a car in the U.S. without insurance. Other inclusions to look out for are breakdown cover, airport fees and loss/collision damage waiver.
What Car Hire Brands Are Available?
Major car rental providers in the USA include Alamo, Avis, Budget, Enterprise by Alamo, Europcar, Hertz, Keddy by Europcar, Sixt, National and Thrifty. Most of them offer a wide choice of vehicles, from economy cars to convertibles and from to SUVs to luxury vans.
Tips and Tricks for Driving in the USA
The US is right-hand drive and remember to keep an eye on your mirror, as drivers in the US don't always indicate a direction change. You and your front passenger must always wear a seat belt.
Blood alcohol limits can vary from state to state but rules can be strictly enforced, so err on the side of caution. Speed limits can also differ in each state, so always keep a close eye on signage.
Bear in mind that various roads have tolls and some can be unmanned, so make sure that you always have change. However, it is worth noting that many rental car providers can offer access to electronic toll plate systems, which means that toll booths can automatically read your number plate then charge any fees to your credit card.
Every state has different driving laws, so make sure that you familiarise yourself with the relevant ones before your visit.
How to Get Around in the USA
There is something truly iconic about taking a road trip across the USA. With its wide highways, roadside attractions and larger-than-life scenery, this is a country that truly rewards adventures by car.
If you are planning on renting a vehicle in the USA, then it is worth exploring famous routes you can take. The most legendary one is Route 66, which stretches across America's heartland on a classic journey from Chicago to Los Angeles. However, bear in mind that some of the original route no longer exists, so contemporary adventurers have to take an adapted journey. On the way though, you can expect to encounter railway ghost towns, petrified forests and retro diners, not to mention the roadside attraction to end all roadside attractions – the Grand Canyon. Your final reward will be the sight of the Pacific Ocean at the end point of Santa Monica.
Why stop there though? If you still have the energy, then from Santa Monica you can take another breath-taking road trip ;– the Pacific Coast Highway from Los Angeles to San Francisco. En route, you can enjoy sweeping ocean vistas, winding mountain roads and must-see stops such as San Jose, Santa Cruz, Monterey, Malibu and San Diego.
Other iconic road trips include the Blue Ridge Highway, the Nashville to New Orleans route and the Great River Road from Minnesota to Louisiana. With a seemingly endless array of driving adventures on offer in the USA, why not plan the journey of your dreams?
We hope that you have found this guide to American car rental useful. To learn more, check out our guide to holidays in the USA.