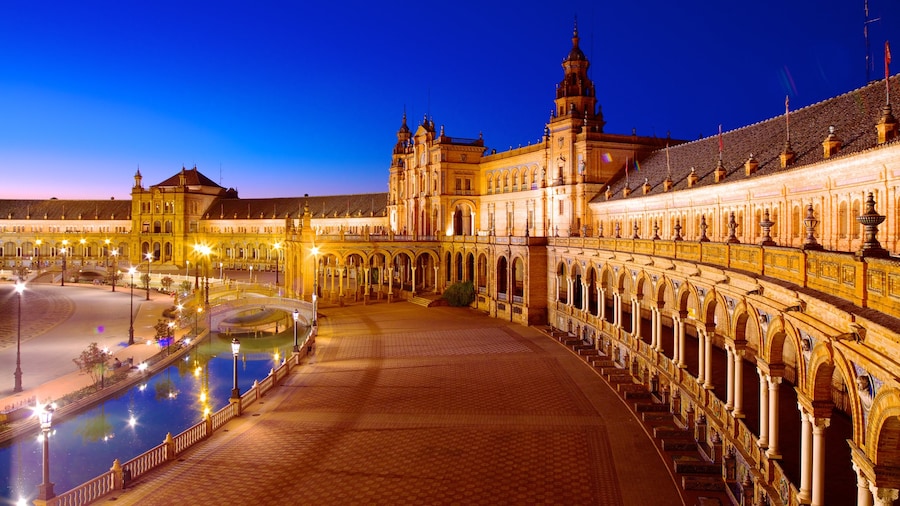 Search over 1 million properties and 550 airlines worldwide
Free cancellation on most hotels. Because flexibility matters.
Whether you're driving along a wide stretch of coastline, eating tapas al fresco in a terraced restaurant, or exploring an old chapel hidden in hills, Spain will enchant your senses. It is one of Europe's biggest countries, and one of its most diverse – each region has a distinct identity and the landscapes include rolling mountains, coastal plains and rich history. There are wonderful cities to see too, including historic Madrid, vibrant Barcelona and atmospheric Seville.

It is just begging to be explored by road and booking with Expedia makes cheap car rental in Spain so easy. Having the freedom of a rental vehicle will enhance your trip, whether you opt to sample the perfect sandy beaches on the Mediterranean coast, explore the cultured cities or head out into the varied countryside.
You can use Expedia's booking tool to compare car hire in Spain and find the best car rental deals.
What Car Hire Brands Are Available?
Major car rental providers in the USA include Alamo, Avis, Budget, Enterprise by Alamo, Europcar, Hertz, Keddy by Europcar, Sixt, National and Thrifty. Most of them offer a wide choice of vehicles, from economy cars to convertibles and from SUVs to luxury vans.
Economy hatchbacks are the most popular type of hire car in Spain but there are many types of vehicle available depending on your needs, and if you're planning to explore some of the more remote regions of the country, you should consider hiring a four-wheel drive or SUV. Picking up and dropping off your vehicle is easy to arrange – car hire firms are usually present at airports and also have city offices, which are often cheaper than at the airport.
What Do You Need to Rent a Car in Spain?
To hire a car in Spain, you must hold a valid EU driving licence. If your licence is from outside the EU you will also need an international driving permit. You will also need to show your passport and pay a deposit with a credit card.
The legal age for driving is 18, but many car rental companies require you to be 21 or older. Note that car hire firms in Spain often charge drivers under the age of 25 a premium of €6 a day.
All the drivers' names must be entered on the hire agreement. Consider how many drivers you want on your rental car contract. Just one is always the cheapest option. Many Spanish rental car companies charge around €5-€6 a day per extra driver, but this can be as high as €15 so do check.


Tips for Hiring a Car in Spain
You will be required to leave a deposit with the car hire company so take precautions to make sure you get it back. When you pick up your hire car inspect it for existing scratches and dents.
Make sure the fee you are quoted includes insurance. The deposit you leave is usually equivalent to the insurance excess and you can pay extra to reduce this amount.
You will also be expected to return your hire car with a full tank of petrol so make sure you have a full tank when you collect it.
Do not take your vehicle out of Spain without telling the hiring company, as it affects the insurance.


What Is Included and What Isn't When Hiring a Car in Spain?
Most car hire brands in Spain have a range of free mileage options, including unlimited. This means that if you are planning on making long trips then it's best to shop around for the best deal. Rental cars usually come with manual transmission and air conditioning with government fees and taxes included. Insurance usually includes collision damage protection with an excess of €1,452.00 (approx. £1,300), but other types of damage may not be included. If you plan to take the car out of Spain, notify your car hire company as you will need extra insurance. If you like the convenience of SatNav then make sure that this comes with your hire car.
Check to see if your car is equipped with air conditioning. Spain is a hot country and it can make a big difference to your trip.
When you use Expedia's booking tool, you can not only select the most suitable car type for your needs, you also get free cancellation and if you have a Nectar Card you can collect points on it.
Tips and Tricks for Driving in Spain
The driving laws in Spain are standard – wear a seat belt, don't drink and drive and don't use a mobile telephone. The roads are well signposted and driving is on the right side of the road.
The motorway speed limit is 73mph. Away from the cities and major routes, the roads can be less developed and in rural areas, you are likely to encounter small country tracks. Most major roads have tolls, which can sometimes be expensive. You can hire a device to electronically pay road tolls, but it is also possible to pay using credit cards or cash at booths.
Drivers sometimes ignore traffic laws, so keep an eye out for this.
Parking can be tricky in the cities and busy coastal towns. Look out for paid parking areas but take care to check times and regulations carefully, as fines and towing can be strictly enforced.
Make sure your rental car has a warning triangle, first aid kit, visibility vests and replacement bulbs.
Must-see Attractions in Spain
On the border of Spain and France, the Pyrenees mountain range is 267 miles in length. This wild landscape is perfect for exploring by hire car as it's dotted with rivers, castles and postcard perfect villages.

Spain's stunning Mediterranean coastline stretches for 1,031 miles and offers many resort destinations to see by rental car. Some are busy tourist towns buzzing with nightlife and entertainment, others are more tranquil, under-the-radar villages. You can also take a ferry to one of the Balearic islands such as Ibiza, Majorca and Menorca. The renowned city of Barcelona lies on the Mediterranean coast. There you can visit a world-class museum or art gallery, including the Fundació Joan Miró, Museu Picasso and Museu Nacional d'Art de Catalunya, sample tapas in a famous square, or simply watch the sunset settle over the port.

The Spanish capital, Madrid, is the beating heart of the country. The central square of the Plaza Mayor is surrounding by historic architecture, while the Museo Nacional Del Prado holds a vast art collection. The 18th century Palacio Real is an ornate Bourbon palace with over 2,800 rooms. For shopping, the glamorous Salamanca district has many upmarket boutiques and the Sunday morning flea market at Ribera de Curtidores is perfect for finding quirkier souvenirs.
Ready to Plan Your Holiday in Spain?
Feeling inspired to explore Spain? Check out this Holiday Guide and use the Expedia search tool to help you find the best car hire, flight and hotel deals and to research the best attractions and activities.