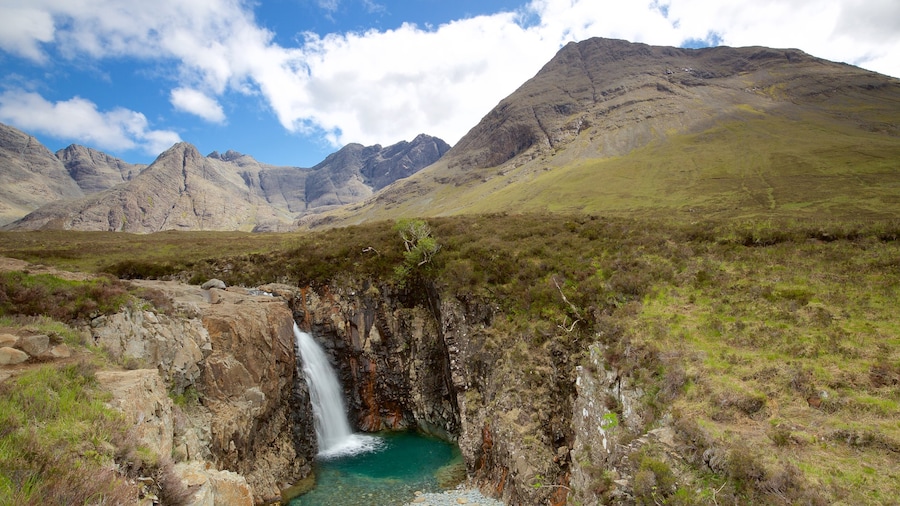 Search over 1 million properties and 550 airlines worldwide
Free cancellation on most hotels. Because flexibility matters.
Car Hire in Scotland
Within a very small space Scotland manages to fit in a wealth of natural and cultural attractions. And that's what makes it so ideal to arrange car hire in Scotland when you visit.
Here's just a wee taste of what's on offer when you hire a car in Scotland.
Car Rental in Scotland for the Great Outdoors
There are vast tracts of wilderness left to explore in Scotland. Park up to see eagles gliding effortlessly over the lochs and mountains of the Highlands. Hop on a boat to see otters weaving in and out of the kelp in the Outer Hebrides. Gasp as a minke whale breaches in the distant waters or get down and dirty hiking through the Cairngorms.
Car Rental in Scotland for a dram and a Clam
Scotland's new-found love of top-quality local produce means that you are never far away from an opportunity to savour the flavour of fresh seafood, often within just a few hours of it being hauled from the sea. Wash it all down with a dram of single malt whisky for the authentic Scottish experience.
Car Rental in Scotland for History
Visit the cave that once sheltered Bonnie Prince Charlie or relive the charged atmosphere at the battlefields of as Bannockburn and Culloden. Castles pepper the landscape, from the ominous tower houses of Hermitage and Smailholm to the intricate battlements Caerlaverock.
Car Rental in Scotland for a Spot of Culture
It's not just at the Edinburgh Fringe that the arts shout loud in Scotland. Pay homage at the birthplace of Robert Burns in the village of Alloway, two miles south of Ayr, or pretend you are Inspector Rebus as you wander the streets of Edinburgh. There is no end of excellent museums to head for, including Glasgow's Kelvingrove, Dundee's Discovery Point and Aberdeen's Maritime Museum.
Ready to hire a car and take a drive through Scotland?
Here's how to do it.
Cheap Car Hire in Scotland
Book your car hire in advance with Expedia and we'll arrange for your vehicle to be waiting for you at any city, town or airport in Scotland when you arrive.
It's an easy drive from Edinburgh Airport, Glasgow Airport, Aberdeen Airport and Inverness Airport to their respective cities – and your car will be waiting for you as you stroll through the arrivals hall.
If you are not arriving by plane there are many locations all over Scotland where you can arrange to pick up your car from.
Expedia offers you a vast network of car hire providers to ensure that you'll always have a great choice of vehicles and access to all the best car hire deals available.
Simply plug in the dates you need a car for, choose where you'd like to start your car hire and select the type of vehicle you need for your trip. There's everything from economical mini-class cars to spacious SUVs available.
It takes just one search to compare prices for car hire – and you can arrive in Scotland with the peace of mind that your holiday travel is already arranged.
Let's take a look at four of Scotland's major cities that you may wish to visit.
Car Rental to Explore Aberdeen
Aberdeen is the dynamic economy that powers northeast Scotland, running on fuel from the North Sea. Oil money has seen some very swanky shop, restaurants, bars and hotels spring up in Granite City. Explore the attractive centre, built largely with silver stone hewn from the now abandoned Rubislaw Quarry, before you drive out south to Dunnottar Castle, west to Royal Deeside, north to a clutch of sandy beaches or follow the inevitable trail that leads to whisky country in the northwest.
Car Rental to Explore Inverness
Make sure the binoculars are in the car as you go in search of the famous monster of the loch. You may have more luck fishing for salmon, however, as the shallow River Ness is famed for its stocks.
Car Rental to Explore Edinburgh
One of Europe's most beautiful cities, with historic buildings perching from every crag and dramatic cliffs providing the backdrop. Stroll through the Old Town's picturesque lanes and medieval tenements and then admire the New Town's orderly grid of Neoclassical elegance.
Car Rental to Explore Glasgow
Scotland's biggest city offers handsome Victorian buildings packed among stylish bars, award-winning restaurants and venues that host one of Britain's best live-music scenes. Whether it's the chance to shop till you drop or a more considered appreciation of Charles Rennie Mackintosh's sublime designs that you are after, Glasgow will oblige.
Where Will Your Car Hire in Scotland Take You?
Castles or culture? Wildlife or whisky? Monsters or mountains? Scotland opens out to you when you hire a car with Expedia.