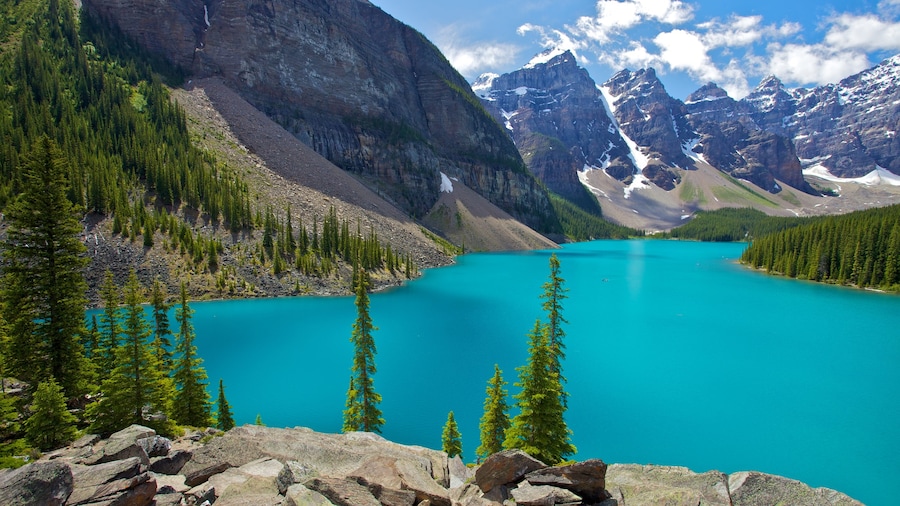 Search over 1 million properties and 550 airlines worldwide
Free cancellation on most hotels. Because flexibility matters.
Car Hire in Canada
Canada is the perfect destination for those looking to get away from it all. Its diverse landscapes are scattered with aquamarine glaciers, sprawling pine forests and snow-capped mountain ranges. This is one of the least densely populated and most vast countries in the world, and if you really want to get out there and experience its beauty, you are definitely going to need your own transport.
Thankfully Expedia makes it simple to hire a car in Canada. We partner with a vast network of car hire specialists to ensure that you have a great choice of cars available from Canada's airports, cities and towns. What's more you can arrange your car hire in Canada in advance so that your rental car is there waiting for you when you arrive.
Whether you want to drive out to the Canadian Rockies or explore some of the country's biggest cities, renting a car in Canada will ensure that you can have all the independence and flexibility that you need.
Search For the Best Car Hire Deals in Canada
When you search for car hire in Canada with Expedia we bring you all the latest deals. You can choose the location that is most convenient for you to pick up your car from, and you can quickly see who is offering the best prices for the type of car you need.
There's everything from economy-class small cars for couples to spacious SUVs that are perfect for larger groups, and a range of choices in between.
If you are planning a long road trip, and wish to drop off your car in a different location to where you picked it up, you can arrange this in advance for the smoothest of experiences. And bookings for any extras, such as child or booster seats, can also be made, so everything will be waiting for you when you arrive.
Cheap car hire in Canada is available from its international airports, including Toronto Pearson, Vancouver International Airport and Montréal–Pierre Elliott Trudeau, so your car can be ready for you to start your holiday as soon as you walk through the arrivals hall.
If you have already arranged a transfer from the airport to your hotel, it is just as easy to pick up your car from central locations in many of Canada's cities, towns and resorts.
Where to go When You Rent a Car in Canada
Foodies should definitely take in Montréal, blessed as it is with one of the most exciting food scenes in Canada. Sample the Kamouraska lamb, Arctic char and delectable poutine as you explore the city's delis, restaurants and food markets.
If there is something of Paris in Montréal, then Toronto may remind you of New York. This action-packed, multicultural city is Canada's largest. Rising from the shores of Lake Ontario, it is home to cosmopolitan museums, markets and trendy shopping, not to mention the impressive TN Tower with its revolving restaurant that offers breathtaking views across the city below.
It is mountains that define Vancouver. This seaport city in British Columbia is surrounded by dramatic peaks and is the ideal base for whale watchers and outdoor enthusiasts alike.
Canada's capital city, Ottawa, is a true historic gem. Those with a love of architecture will be enthralled by its unique buildings, among which there are several world-class examples of the Gothic Revival and Victorian styles. Amongst its other areas of historic interest is the Rideau Canal, the oldest continuously operating canal in North America, and a Unesco World Heritage Site.
But Canada is not all about its cities, fine though they may be. It's the great outdoors and those vast expanses of wilderness that continue to attract visitors. Wherever you are based in Canada these will be accessible to you by car, so let's take a look at some of what is on offer.
This unique and sparsely populated part of the planet is famous for unspoilt vistas and fabulous coastlines that will encourage you to pull your hire car over on many occasions to admire the views. From the iconic Niagara Falls to the sublime beauty of Banff National Park, on the edge of the Canadian Rockies, Canada is packed with glaciers, alpine forests and lakes that will take your breath away. Just keep an eye open for grizzly bears when you pull over!
Those who want to get active are certainly not short of opportunities. There's fantastic hiking in Jasper National Park, white water rafting on many of Canada's rivers, and the skiing in Whistler is hard to beat anywhere in the world.
Book yourself a whale watching tour in Vancouver to see these majestic beasts in their natural environment or drive out to feel the sheer power of the Niagara Falls.
When you hire a car in Canada you'll never be short of new experiences.