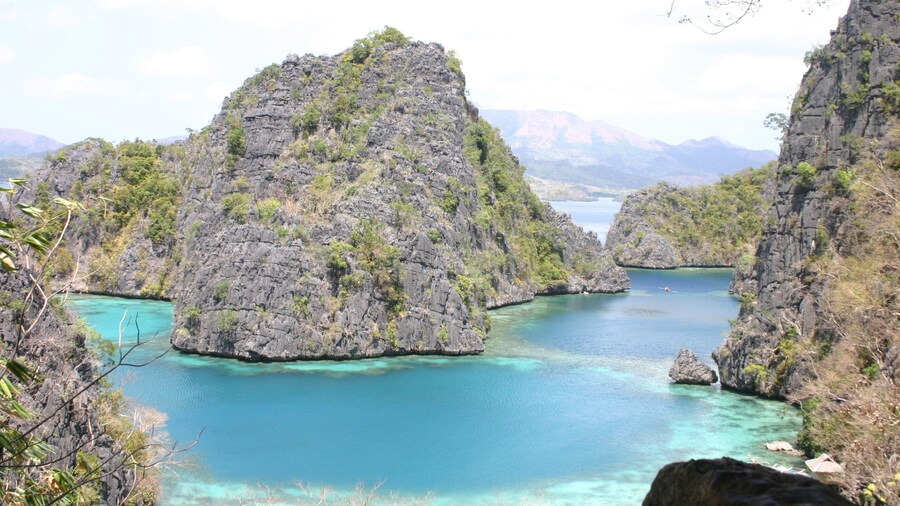 Photo by J Contreras
Search over 1 million properties and 550 airlines worldwide
Free cancellation on most hotels. Because flexibility matters.
Lowest nightly price found within the past 24 hours based on a 1 night stay for 2 adults. Prices and availability subject to change. Additional terms may apply.
Pocket Guide: Busuanga
Visiting Busuanga
Busuanga's upscale hotels make it a great destination for luxury-minded travellers, but all guests will undoubtedly appreciate the island, restaurants and boating. Visitors who travel to this relaxing, tucked away city can discover its snorkelling, diving and seafood.
There are 7 Busuanga hotels
August is the most expensive month to travel here, whereas March is the most economical
Closest major airport is in Busuanga (USU-Francisco Reyes), 12.5 mi (20.1 km) from the city centre
Sightseeing around Busuanga
Boating, snorkelling and diving are top activities, whereas sights to visit include Mangenguey Island Dock
Notable landmarks include Black Island Shipwreck, Concepcion Pier, and Okikawa Maru Shipwreck
The island and beaches exemplify the area's natural beauty, and some places to consider are Huma Island Beach and Mangenguey Island Beach
Staying in Busuanga
You may enjoy one of these top-rated, one-of-a-kind properties and small hotels for a charming or stylish getaway:
Huma Island Resort & Spa
Busuanga Bay Lodge
A favourite with Expedia travellers is Huma Island Resort & Spa with a 4.9 out of 5 user rating, whereas Busuanga Bay Lodge has a 4.4 rating by guests.
Dressing for Busuanga
Between January and March, you can expect the daytime average to be around 33°C and the nighttime average to be 21°C
From April to June, temperatures average about 34°C during the day and 22°C at night
July to September averages 32°C during the day and 24°C at night
Between October and December, the average temperature is 31°C during the day and 21°C at night
Busuanga gets about 74 millimetres of rain per year
Frequently asked questions
Where is the best place for a stay in Busuanga?
If I need to cancel my hotel reservation in Busuanga, will I receive a refund?

Yes! You'll find that most hotel bookings are fully refundable as long as you cancel before the accommodation's cancellation deadline, which is often 24 or 48 hours before check in. If you have a reservation that's non-refundable, it may still be possible to cancel it and get a refund within a 24-hour period of booking. Add dates, click "Search", then you can filter by "free cancellation" to view the best deals available in Busuanga.
What's the best accommodation for a budget-friendly stay in Busuanga?

Based on reviews,

Busuanga Bay Lodge

is a popular resort for our travellers who want a more economical choice, and features free WiFi and an outdoor pool.
What's the best place to stay when travelling with children to Busuanga?
What's the best hotel for a romantic getaway to Busuanga?
What's the best pet-friendly place to stay in Busuanga?
What's the best hotel to stay near the beach in Busuanga?
What are some accommodation options with pools in Busuanga?
What is the best spa hotel in Busuanga?
How is it staying in Busuanga?

Visitors to Busuanga will definitely enjoy the local tours. Tourists can also enjoy the city's seafood restaurants and hot springs. A top sight in the city is Huma Island Beach. In Busuanga, there are 18 hotels and other accommodation options to choose from.
What should I do while I'm visiting Busuanga?

Landmarks like Black Island Shipwreck and Okikawa Maru Shipwreck might be worth a visit. Natural beauty is on display at Huma Island Beach, Bintuan Mangrove Park and Concepcion Falls. Taking a local tour is a great activity, and Mangenguey Island Dock is one place to visit.
What's the weather like in Busuanga?

The hottest months are usually April and May, with an average temperature of 28°C, while the coldest months are January and February, with an average of 26°C. The rainiest months in Busuanga are July, August, September and June, with each month seeing an average of 365 inches of rainfall.
Busuanga Hotel Reviews
This is a great resort with great views- easily a place you can stay at for days. The villas are scattered and very private, and the vegetation is thick and lush- plenty of flowers. The staff is very friendly, professional, and attentive and will go out of their way to make sure you're happy. I forgot my shoes after a boating trip, but couldn't remember if I had left it at the bus terminal or on the bus itself. The staff did the detective work by themselves, and the shoes were waiting for me, the very next morning. That being said, I am the first person to break the perfect 5.0 rating this resort has received, and for good reasons. I think they can do just a little more, in order to become a truly first class resort. First the menu of their restaurant could be improved with more creative cuisine, involving more vegetables- less fried, and more healthy options (e.g., less french fries). And also, I am well aware that hot water is typically not furnished on the smaller islands, but I think this resort could find a way to provide hot water. Be aware that this resort is on a steep hillside so there are a good number of steps to be traversed anywhere you go. Good exercise, though!
A verified traveller stayed at Marina del Sol Resort & Yacht Club
Posted 1 year ago
Marina del Sol Resort & Yacht Club