Just before I sat down to write this, the radio informed me that the temperatures in Berlin will hover around 30° C this weekend. To many Germans, that's frightfully hot, while to sun-worshippers like me, for whom anything under 25° C feels rather too chilly, it sounds like the forecast for a perfect weekend. Regardless of which camp you fall into, nothing feels better on a hot day than taking a refreshing dip, and thankfully, Berlin has plenty of great swimming spots at its disposal. The sea may be several hundred kilometres away, but lakes big and small dot the city and the surrounding countryside, and the downtown itself offers such diverse swimming spots as a converted barge-turned-swimming-pool floating in the middle of the Spree River, and a super-hip pool lounge built in a former train yard (more on those below).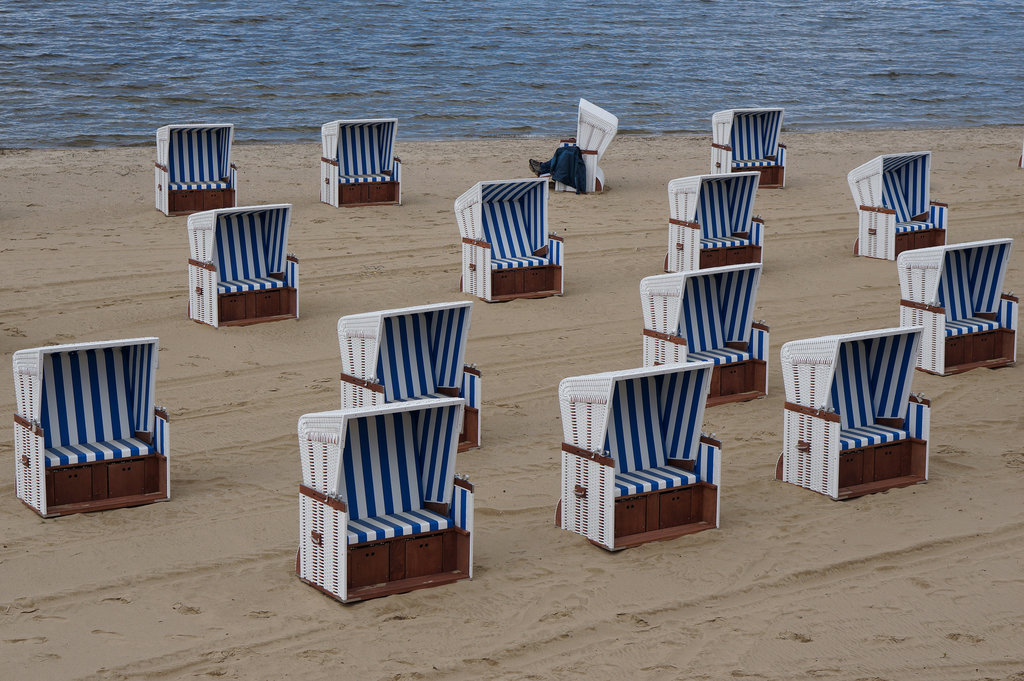 One of the most popular places to swim is the lido at Wannsee, a lake in the southwestern corner of the city that's easily accessible by S-Bahn. With an entire kilometre of soft, white sand, the beach offers plenty of space to spread out and get comfortable, though on sunny days and during school holidays, you may find yourself rubbing elbows with what feels like every family in west Berlin. Even still, with lounge chairs for rent, a snack bar, a long pier to jump off and even a waterslide, this is the kind of place where you could easily spend an entire summer's day. Given its extensive setup, Wannsee, unlike most city-run lidos, charges an admission fee. For the 2016 season, prices are set at €5.50 per adult or €11.50 per family.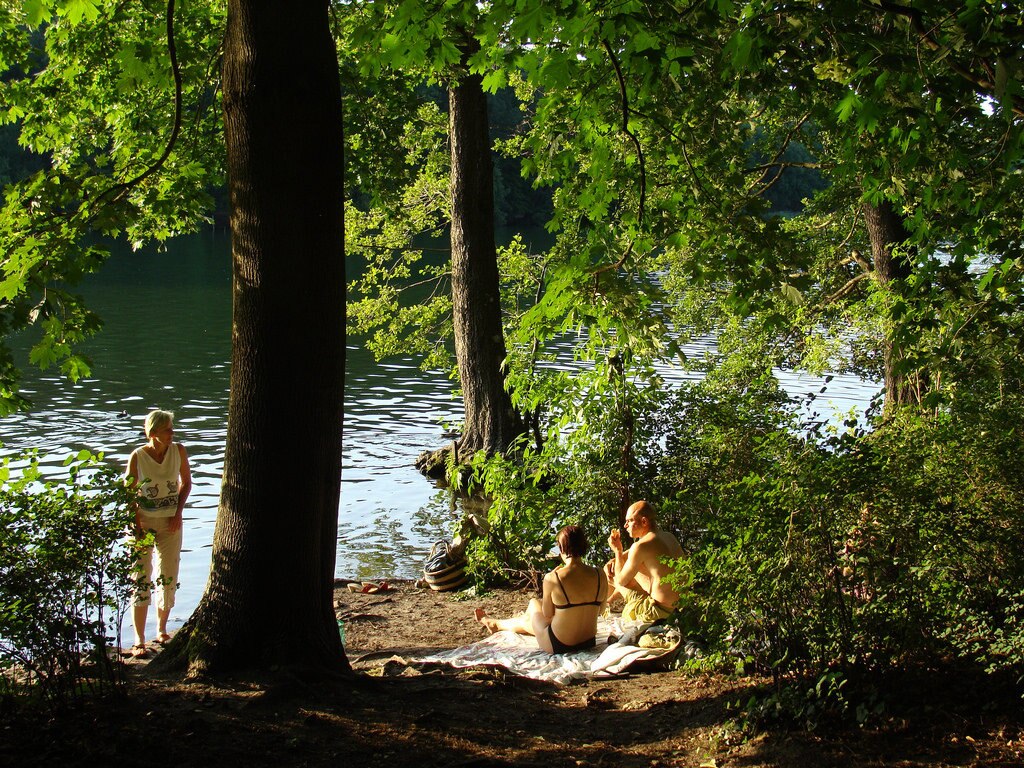 A few stations closer to the city centre is another lake option that's smaller and quieter, and therefore my favourite: Krumme Lanke. Unlike the long sand beach at Wannsee, the shore at Krumme Lanke is mostly wooded, with little clearings dotted here and there, which means there's much more privacy and solitude than at a wide-open shared beach. If you didn't manage to pack a picnic, head to the nearby Fischerhüttefor post-swim refreshments (Fischerhüttenstr. 136). Housed in a former fisherman's hut on the eastern shore of neighbouring Schlachtensee lake, the restaurant's biggest attraction is its waterside beer garden, one of the best summer spots for Wurst and Brezel as the sun goes down.
A brief interlude on the topic of lakes and nudity: In short, if you go to any Berlin lake this summer, expect to see a fair number of people naked as the day they were born. The Freikörperkultur (FKK) movement, or 'Free Body Culture', has been popular in Germany since the 1900s, and nudism is simply normal here. Bigger lakes at Wannsee and Schlachtensee even have designated nudist beaches where FKK fans can congregate amongst like-minded comrades. So if you'd rather not find yourself surrounded by those in the nude, look for the FKK sign and then steer clear.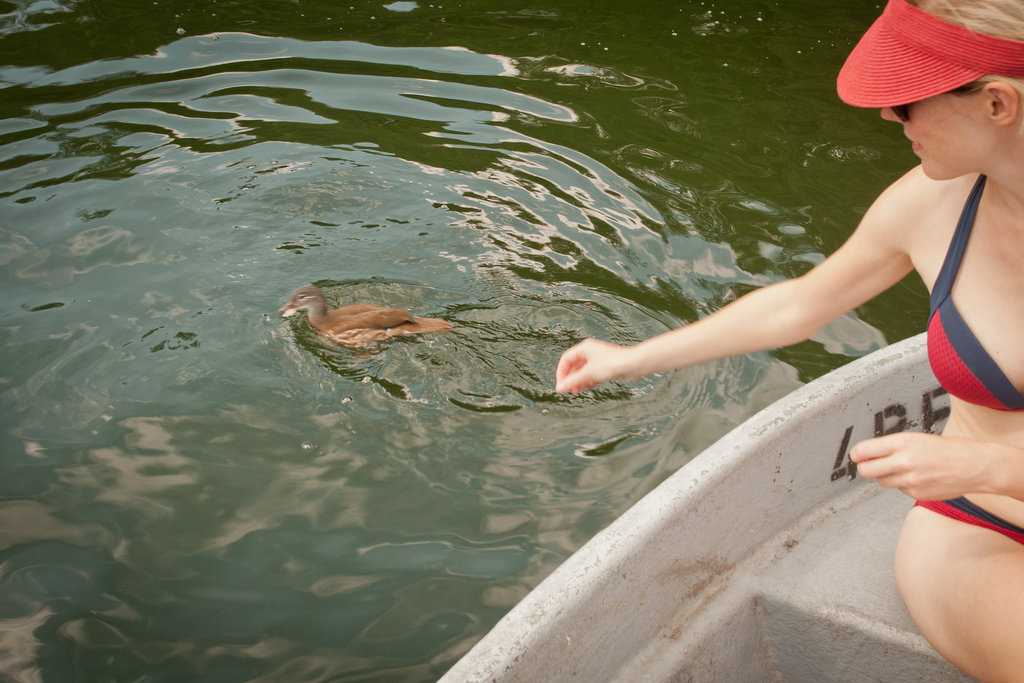 Another lake option to try is Flughafensee, easily accessible from downtown on the U6 U-Bahn line. Hard to believe Tegel Airport is just beyond the treeline - Flughafensee looks rather bucolic with its soft, sandy beaches and surrounding bird sanctuary. Reaching 34 metres at its deepest spot, which makes it the deepest lake in the city, this is a cool, refreshing spot for dedicated swimmers to practice their strokes, although the oftentimes-busy scene back on the beach is more party than sporty. Groups of teens and 20-somethings come here to hang out, but there are also quieter spots away from the main beach if you look.
To get in a quick dip without having to head out to a lake, there are a few downtown pools worth a mention. Badeschiff is a long-time Kreuzberg classic, a swimming pool built out of a converted barge that floats in the Spree River, attached to shore by a series of docks that are perfect for sunbathing (Eichenstr. 4). On the other side of the river in Friedrichshain is Haubentaucher, a pool lounge built in the middle of a one-time train repair yard (Revaler Str. 99). With potted palms and DJs, the vibe here is very LA pool party, which also means that when it gets busy, there may be a bouncer turning people away. Neither of these offer the spaciousness of lake swimming, but for some easy summertime pool-side lounging, they hit the spot.
Ready for your swim in Berlin? Check our hotel deals to start planning your summer trip.