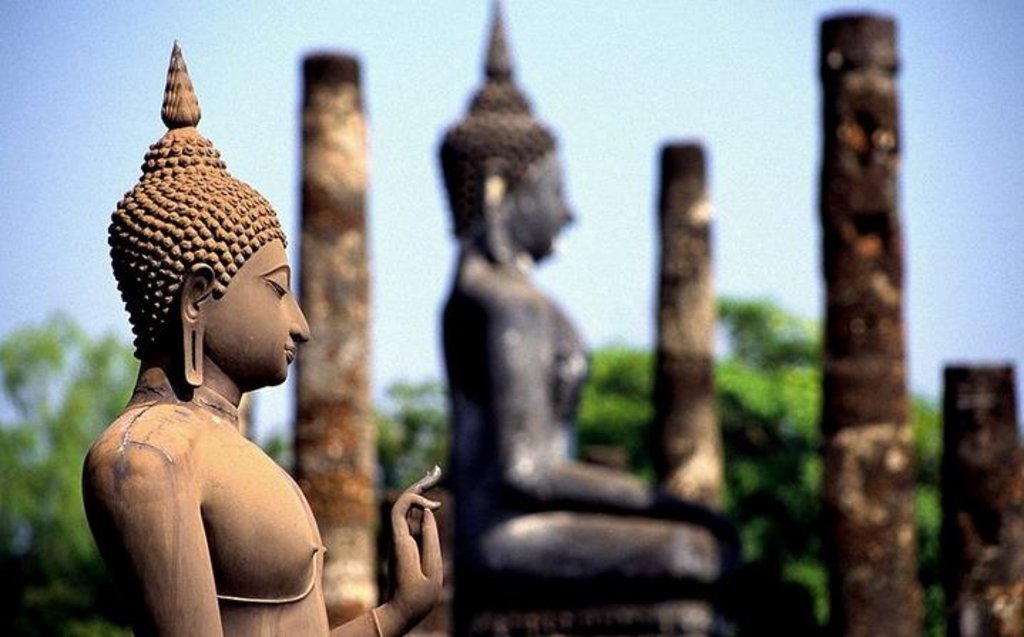 Image: flickr user melenama
Think of Bangkok and you'll probably picture bustling streets and chaotic scenes. But Thailand's capital is a deeply spiritual city, one filled with Buddhist temples and plenty of ways to unwind, perfect for escaping with a summer holiday sale. Here are a few of our favourites.
Yoga | Iyengar Yoga Studio

Image: iyengar-yoga-bangkok.com
Unite your body and mind with a yoga class from Bangkok's Iyengar Yoga Studio. Iyengar is a type of yoga that combines precision, alignment and mindful breathing with your asanas for a yoga class that's a little more challenging than the norm.
Iyengar Yoga Studio offers beginner and advanced classes, as well as yoga blocks and straps attached to the wall for the super daring. Be sure to check it out between 8am and 8.30pm, Monday to Friday.
Outdoor Yoga | Lumpini Park

Image: flickr user matthewragan
Get outside and enjoy the sunshine, with an outdoor yoga class in Lumpini Park. A haven of tranquillity in the middle of Bangkok, Lumpini Park boasts leafy trees and a large lake, as well as a multitude of joggers, cyclists and picnickers all enjoying their laidback surroundings.
So if you fancy a little yoga alfresco, classes run every day at 7am and again at 6pm on the grassy space under the trees, in between the running path and the lake. Get ready to feel blissful!
Meditation | Wat Mahathat

Image: flickr user yaspal
If you've always wanted to give the practice of meditation a try but haven't really known where to start, then Bangkok could be just the place to give it a go.
Learn the basic principles with an introduction to meditation course at Wat Mahathat Temple. Here in these tranquil surroundings, you'll begin to quieten the chatter in your mind and begin to be at peace with yourself. The courses are available as half-day or full day sessions.
Temple Visit | Wat Pho

Image: flickr user aschaf
You don't need to be a follower of Buddhism to appreciate the beauty of a Buddhist temple. Full of impressive architecture, history and tranquillity, visiting a temple is a wonderful way to spend an afternoon lost in your own thoughts - and Wat Pho is no different.
Famous for its giant statue of a 46 metre long reclining Buddha, the atmosphere in Wat Pho is peaceful and hushed - just remember to take off your shoes before you enter!
Holistic Healing | Omroom

Image: omroom.net
A holistic centre of traditional medicine, Bangkok is a great place to try out some alternative healing or reflexology. Here, there are many centres dedicated to the healing of not just your body but also your spirit and your mind.
Describing themselves as 'a cosy little space for those seeking personal growth, well-being, healing, and spirituality', Omroom offers everything from yoga and reiki to tarot card reading and self-empowerment workshops.
So there you have it, five ways to discover your spiritual side in Bangkok. What's your favourite way to relax?