Are you mad about cocoa? Do chocolates melt your heart? Then say no more: you need to discover our chocolate tours of major European capitals! Here's everything you need to know about Amsterdam's chocolatey offerings...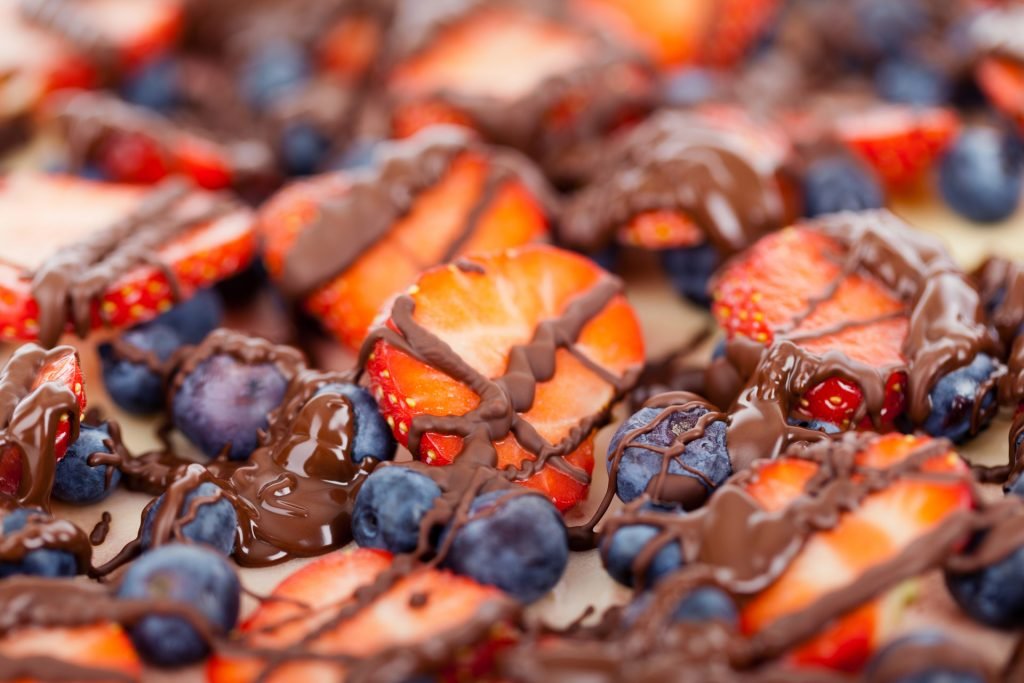 The high-quality chocolate from the Venice of the North will win you over...
You will be spellbound by Amsterdam's pretty canals, houseboats and narrow, cobbled streets. Take the opportunity to discover every corner of the town by exploring on foot or by bicycle. What will your mantra be? Finding the best chocolate spots in town! We have good news for you: we've picked out the essentials for every food lover in need of a chocolate fix.
Devour vegan chocolate at Mumu to the Moon
You're searching for your guilty pleasure. So what's the problem? It needs to be vegan! Not to worry, as one of the places in Amsterdam people are talking about specialises in just this. Mumu, a charming cafe and confectioner's, only makes sweet treats which are dairy-free and contain no animal products. This will take you to seventh heaven without feeling guilty!
Mumu to the Moon
Eerste Jacob van Campenstraat 33, 1072 BC Amsterdam
Dive into a world of chocolate at the Chocoa Festival
True chocolate fans simply must take a few days' holiday during the Chocoa Festival, which is held each year in Amsterdam. Over the course of a weekend, you can attend conferences, workshops and tastings, all about chocolate. It is a great opportunity to learn about chocolate production and how your favourite sweet treat is made. An event suitable for adults and children alike!
Chocoa Festival
Beurs van berlage
Damrak 243, 1012 ZJ Amsterdam
Give in to the pralines at Puccini Bomboni
One of the best chocolate shops in Amsterdam sits between two canals. Praline lovers will delight in discovering the impressive choice offered by this excellent chocolate shop in the centre of town. Difficult to resist... Our recommendations? Make sure you try the apricot marzipan, rhubarb and Amaretto or maybe even the Gianduja, lemongrass and thyme.
Puccini Bomboni
Singel 184, 1016 AA Amsterdam
Taste handmade chocolates from Chocolátl
Designed to look more like a gallery than a shop, Chocolátl offers a feast for the eyes with its original, high-quality selection of chocolates. Here you will taste wonderful handmade chocolates. You can also book a tasting at Chocolabs, which gives you a fun introduction to the world of chocolate.
Chocolátl
Hazenstraat 25a, Amsterdam
Fall for a chocolate fondue at the Chocolate Company
At the heart of Amsterdam's main station, take a break from the rush to taste one of the best chocolate fondues in the world. Your mouth will water at the mere thought of this fondue served with a selection of strawberries and other fresh fruits! For those who wouldn't dream of sharing their dessert, give in to the call of the famous 'Killer Brownie'. A dessert that lives up to its name!
Chocolate Company
Amsterdam Centraal, Stationsplein 17B, 1012 AB Amsterdam
Taste unusual creations at Ganache Amsterdam
Spend some time exploring this lovely chocolate shop located in the heart of Amsterdam's town centre, just a few steps from the famous Oude Kerk church. You will find daring creations which will tempt your taste buds: mandarin, mango, raspberry, vanilla and even ginger. Here, handmade chocolate comes in every imaginable shape and combination.
Ganache Amsterdam
Oudekerksplein 17, 1012 GX Amsterdam
Urban Cacao
Urban Cacao is where your wildest chocolate dreams will come true. Mint, lavender, passion fruit and jasmine, lemon... the choice is huge and it's hard to leave this cave of wonders empty-handed. Fortunately, there are pretty selection boxes on sale, otherwise it would be impossible to choose! Looking for a gift? Fall in love with bars of Fair Trade chocolate, packaged in beautiful printed paper.
Urban Cacao
Rozengracht 200, 1016 NK Amsterdam
Marvel at chocolate delights at Van Velze's
You will have noticed that Amsterdam's chocolate makers love originality. At Van Velze's, you can taste combinations you would never have imagined. The chocolates combine the tangy bitterness of cranberry with the spiced taste of cardamom and marry mild chilli with balsamic. In short: fireworks for the taste buds with chocolate in the spotlight!
Van Velze's
Eerste Oosterparkstraat 7, 1091 GT Amsterdam
Admire the art of chocolate making at ArtiChoc
Originality knows no limits in this shop located in the heart of Amsterdam. Here you can admire white chocolate swans, peanut-shaped pralines and traditional clogs filled with petits fours. Depending on the time of year, this chocolatier also offers seasonal creations: chocolate skulls for Halloween, snowmen at Christmas and pastries decorated with small pink sugared hearts for Valentine's Day.
ArtiChoc
Koninginneweg 141, 1075 CM Amsterdam
Devour an ice cream at Jordino
What could be nicer than enjoying an ice cream while strolling along Amsterdam's famous canals? Take a trip to Jordino, a chocolatier and ice-cream maker, where even the cones are made using chocolate. Fashionistas can eat chocolate high heels covered in coloured sugar pearls!
Jordino
Haarlemmerdijk 25-A, 1013 KA Amsterdam
Chocolate - a surprising anecdote:
In 2009, the managers of a Porsche dealership in Gelderland, in the Netherlands, decided to create a car made of chocolate. It took 175 kg of melted chocolate to construct the whole car! No detail was overlooked: even the headlights were covered in white chocolate...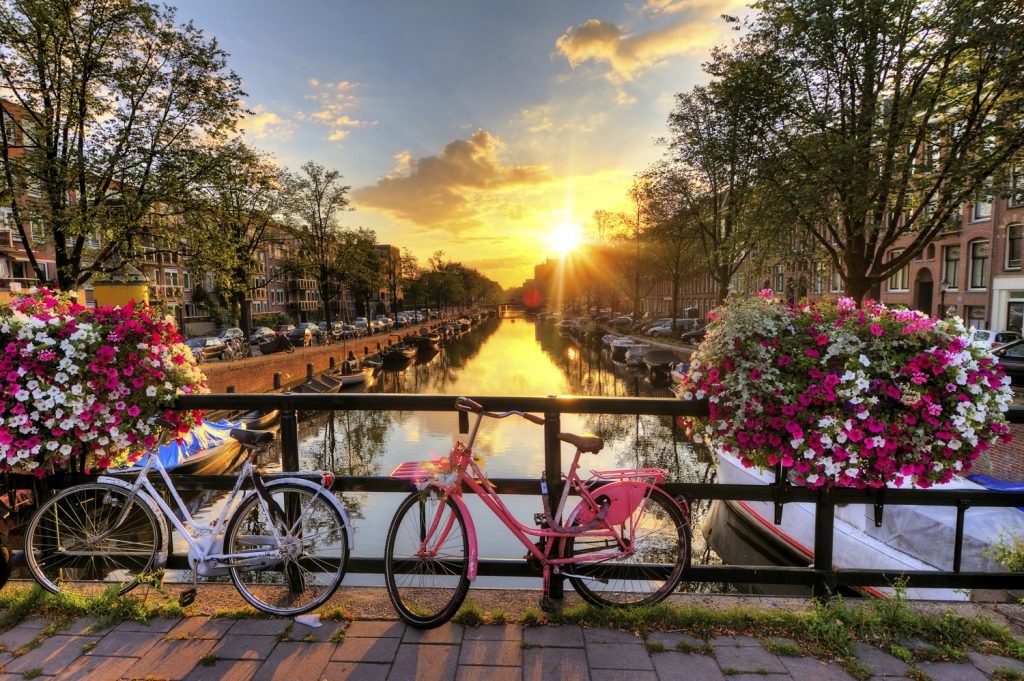 Amsterdam summer sunrise via Shutterstock
Spotlight on: Coenraad Johannes van Houten, the inventor of cocoa powder:
Born in 1801 in Amsterdam and the son of a chocolatier, van Houten was a chemist whose work was inspired by his father's work. In 1828, he filed a patent for "powdered chocolate". He invented a way of extracting the cocoa butter so that a powder could be produced from it - which proved especially useful for making hot chocolate.