How to book your holiday activity
Wondering how to tailor-make your holiday activity? Here is a quick guide on how to book your activity at the same time as your flight and hotel. And if you prefer booking your activity separately, simply click on 'search for an activity'.
1. Choose your flight + hotel deal
Click on the 'choose and continue' link.
2. Confirm your trip details
Click on the 'continue booking this trip' link.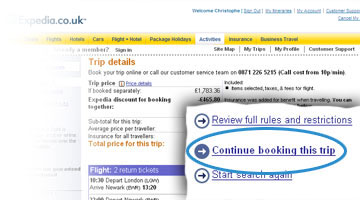 3. Customise your trip
Tick the check box of your selected experience/attraction.
4. Re-price and continue to payment
Click on the green 'Re-price' button, your total price should change. Then click on the 'continue booking this trip' link.
5. Confirm and pay for your booking
Access your account and complete the booking. Full details of the experience will be provided.
6. Enjoy your activity
View some of our great holiday activity deals
Book your holiday activity on its own or tailor make your trip to include a flight and hotel as well as your required activity.